School Closure - Tuesday, September 22, 2020
The Westview School is closed to in-person and virtual instruction today (September 22) due to inclement weather and hazardous road conditions from Tropical Storm Beta. Please stay safe. Families will be notified via our Westview Information Notification System (W.I.N.S.) for any additional updates.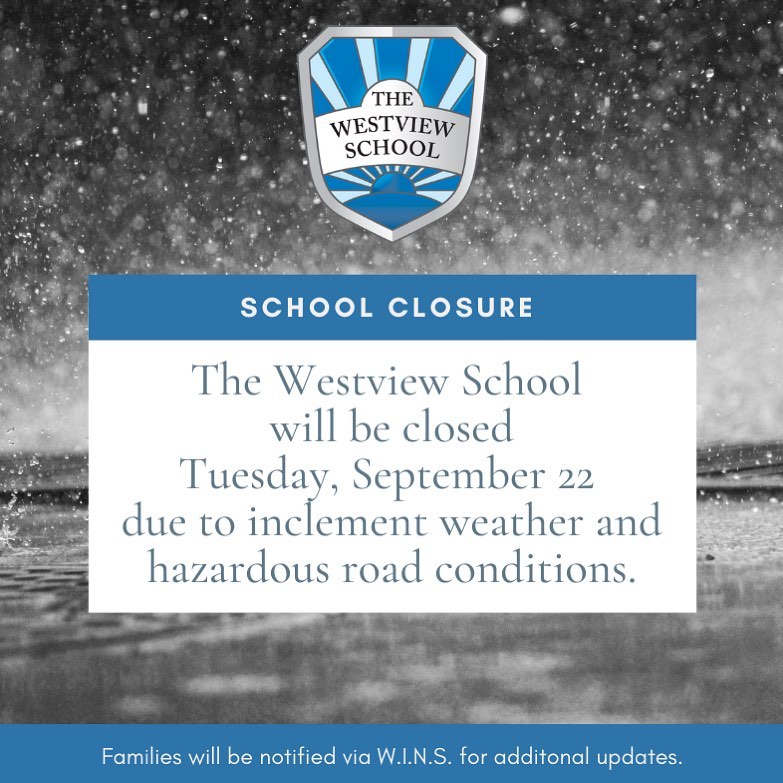 We are excited to announce that we have named a new Head of School!
Please join us in welcoming Dr. Bevan Koch!
March 11, 2020
Dear Westview Family,
On behalf of the Board of Directors, it is my great pleasure to announce that Bevan M. Koch has been appointed the third Head of School for Westview. The Board's unanimous decision to select Bevan was supported by the unanimous recommendation of the Search Committee.
Bevan succeeds Donna Marshall, who as you all know is retiring after nearly thirty years of devoted service to our wonderful school. We all owe a great debt of gratitude for her many contributions. As previously discussed, her career will be appropriately celebrated in a retirement party to be coordinated by POW. In the meantime, Donna and her team will work closely with Bevan in the months ahead to ensure a seamless transition of leadership and a smooth launch to the 2020-2021 academic year.
Our next Head of School comes to us from Sewickley Academy in Sewickley, Pennsylvania (outside Pittsburgh), where she has served in increasing positions of responsibility since 2013. Bevan has both a Masters degree in Special Education and a Doctorate in Educational Leadership from Sam Houston State University, as well as a B.S. in Mathematics Education from McNeese State University. You will find more details of her experience on her resume, attached.
Bevan is excited to have finally returned to her home state of Texas with her husband, Glenn, after years of corporate career moves for Glenn with Williams Companies. Glenn is now situated at regional headquarters in the Galleria, allowing Bevan to look forward to the opportunity of providing many years of service to Westview. Having accomplished the search process ahead of schedule, we have the exceptional advantage of a very useful period of overlap for Bevan at the end of this academic year, to allow her to begin her listening and assessment process.
As I have said to you before, each chapter in the Westview story has been better than the ones that came before it. We have immense reason for confidence that the next chapter will be very bright indeed.
On behalf of the entire Westview community, I would like to express sincere thanks to the Search Committee, including Stacy Anderson, Walt Christopherson, Tim Harris, and Louis Mogas – all from our Board. But especially to Search Committee members Sarah Chauvin and Katie Hazeldine for their tireless and imminently professional contribution to our success. We simply could not have achieved such an outstanding outcome without them.
Please join me in celebrating and welcoming Bevan and Glenn to the Westview family – and in expressing our continued support and gratitude to Donna and her entire team for their assistance in this substantial effort.
Sincerely,
Fred Frost, Chair
Westview Head of School Search Committee
Westview a 2019 NASET School of Excellence
We are excited and honored to announce that Westview has been distinguished as a 2019 NASET School of Excellence! This is the highest honor a private special education school can achieve through this professional association. The recognition is bestowed on private special education schools that meet rigorous professional criteria and have demonstrated truly exceptional dedication, commitment and achievement in the field of special education. Learn more about this award at https://www.naset.org/index.php?id=5111
Westview Featured on FOX 26
Many thanks to Melissa Wilson from Fox 26 for spending time with us in honor of Autism Awareness Month! Check out the wonderful piece on The Westview School here.
The 2019 Westview School Fundraising Luncheon
The Annual Westview School Fundraising Luncheon was held last Wednesday at River Oaks Country Club. Over 200 guests were on hand for the program and were treated to moving speeches from current Westview Student Quint Rule, Westview alumni Gregory Khuri and Westview Parent, Kathryn Hilton. This year's event has brought in over $161,000 to date. Special thanks to our event underwriters Rex and Karen Burch, Walter and Catherine Christopherson, and Mrs. Donita Choate. And get those calendars out. Next year's Fundraising Luncheon is set to take place on February 26, 2020 at River Oak Country Club. (Thank you to Ms. Jaana Eleftheriou for the wonderful photography!)