Back to Calendar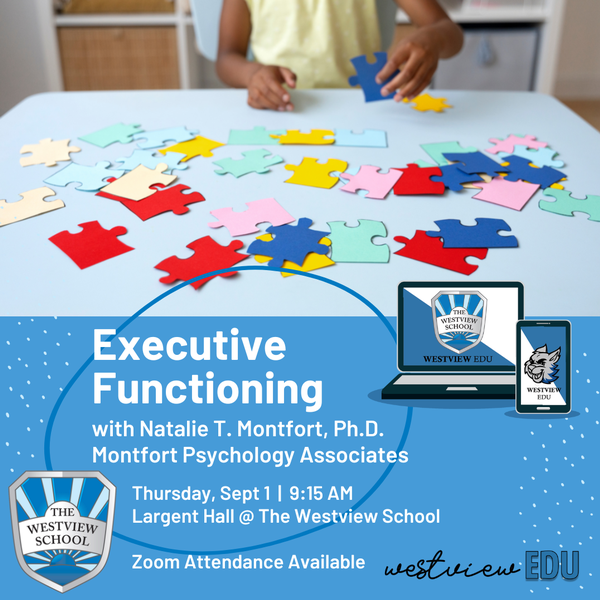 Westview EDU: Executive Functioning
Category: 2022-2023
Date: September 1, 2022
Time: 9:15 AM - 10:15 AM
Does your child forget to put socks on before shoes? Do they overreact to minor problems or setbacks or impulsively react to others? Do they get distracted and fail to finish what they start? These and similar behaviors are all related to Executive Functioning, the "mental manager" that controls and directs our behavior, emotions, and actions.
Please join us on Thursday, September 1 at 9:15 AM in Largent Hall for our first Westview EDU of the school year – Westview EDU | Executive Functioning. The Westview School is excited to welcome Natalie Montfort, Ph.D., Clinical Psychologist, Montfort Psychology Associates, back to campus.
Dr. Montfort will discuss executive functioning, why it matters, and how you can help develop and improve your child's executive functioning skills with strategies, you can implement at home.
This event will be held in person in Largent Hall on The Westview School campus. Zoom attendance will be available by request. All attendees, both virtual and in-person, should register for the event.
Any questions? Having an issue with the online registration form? Email Sarah Chauvin for assistance.