Back to Calendar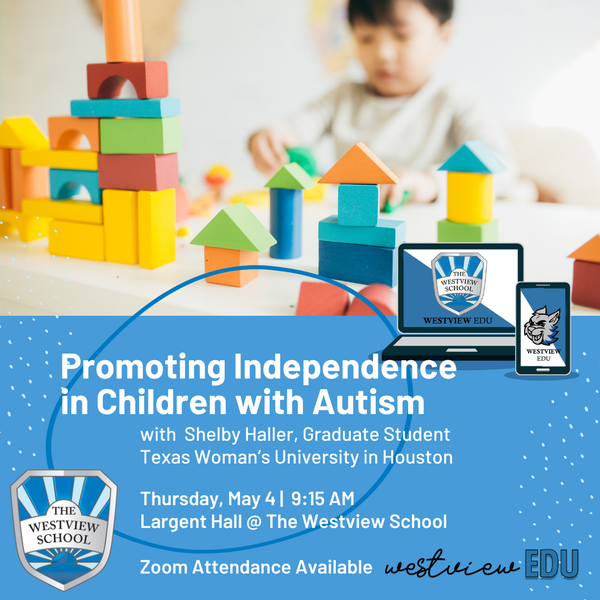 Westview EDU | Promoting Independence in Children with Autism
Category: 2022-2023
Date: May 4, 2023
Time: 9:15 AM - 10:15 AM
We are excited to welcome Shelby Haller for our final Westview EDU of the 2023-2024 academic school year. Join us for Westview EDU: Promoting Independence in Children with Autism on Thursday, May 4, at 9:15 AM in Largent Hall.
Shelby is a current student at Texas Woman's University in Houston, working on her entry-level doctorate in occupational therapy. Earlier this year, she partnered with The Westview School on a project seeking to support parents in fostering and promoting independence in the everyday life of children with autism. Armed with the thoughts and experiences of our Westview community, Shelby will share what she has learned about promoting children's independence on the autism spectrum.

This event will be held in person in Largent Hall on The Westview School campus. Zoom attendance will be available by request. All attendees, both virtual and in-person, should register for the event.
Any questions? Having an issue with the online registration form? Email Sarah Chauvin for assistance.