Back to Home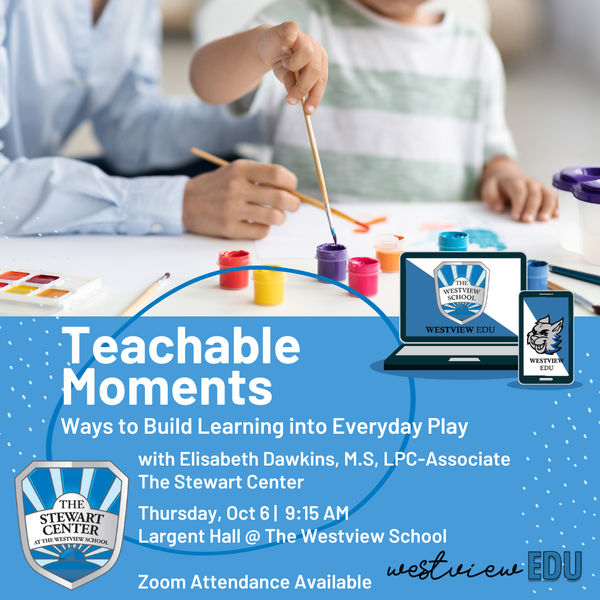 Westview EDU | Teachable Moments: Ways to Build Learning into Everyday Play
Category: 2022-2023
Date: October 6, 2022
Time: 9:15 AM - 10:15 AM
Interactions with our children are filled with spontaneous learning opportunities that can yield big results over time. Kids learn best when the subject is part of their everyday life or is happening now and when they feel some ownership over the process. How do you make sure you don't miss out on these fruitful opportunities for growth? What are some simple ways to tweak your playtime to make any moment a teachable one while keeping your child engaged and excited?
Save the date for Thursday, October 6 at 9:15 AM in Largent Hall for our October Westview EDU | Teachable Moments: Ways to Build Learning into Everyday Play. Elisabeth Dawkins, Licensed Professional Counselor-Associate training in Clinical Play Therapy at The Stewart Center, will share some of her favorite take-home tips and best playtime practices from her hands-on experience incorporating learning into everyday play with her clients.
Elisabeth is a certified provider of DIRFloortime® a child-led, structured approach to play therapy that teaches flexibility and problem solving and helps children and teens to make emotional connections.
This event will be held in person in Largent Hall on The Westview School campus. Zoom attendance will be available by request. All attendees, both virtual and in-person, should register for the event.
Any questions? Having an issue with the online registration form? Email Sarah Chauvin for assistance.