A Place Where You Fit: One Child's Story
April 20, 2022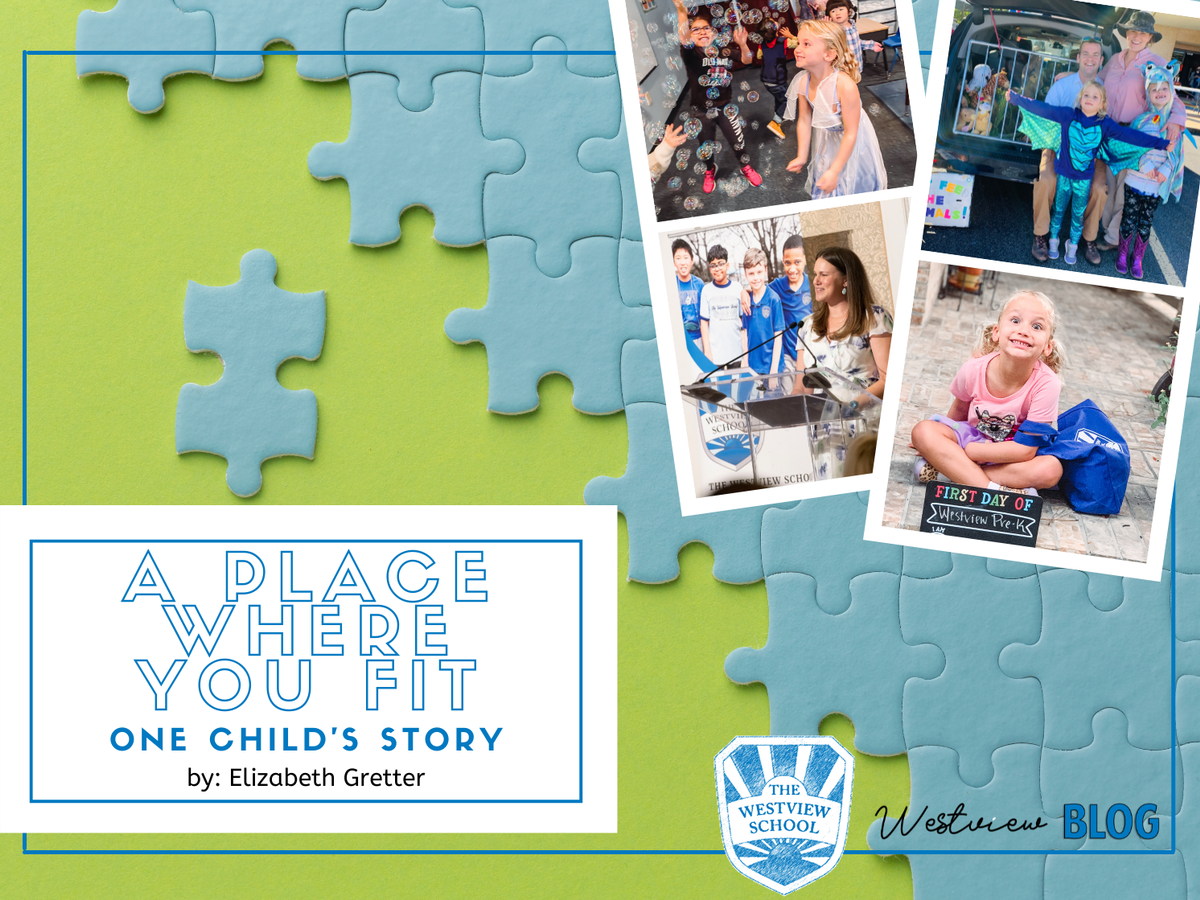 Margaret is six years old. She is a lively, precocious, friendly kindergartner who will soon complete her second year as a student at The Westview School. Her mother, Elizabeth, was the parent speaker at the Westview Fundraising Luncheon held in March 2022. Elizabeth gave a poignant and heartfelt speech on what being a part of Westview has meant to Margaret and her family. Margaret is just one of many successful examples of how children on the autism spectrum can learn, grow, and develop a strong sense of self and an appreciation for others when taught in a nurturing and supportive environment like Westview. This is Margaret's story as told by her mother, Elizabeth.
Before Westview
The best way to express what Westview has meant to our family is to tell you a bit about what came before. When we first decided to name Margaret, Margaret, we thought we would call her Maggie or Meg, but she showed us that those sweet monikers would never suit her. She was a thoughtful, intense, and wonderfully serious, and stubborn little bundle who simply demanded that we call her Marge. A newborn baby called Marge will always get a chuckle. Her little sister would soon make that Margie, which has stuck.
In her early years, Margie's development seemed to track. She played with her sister, smiled at us, and began speaking at around the same time as her sister. The word autism never crossed our minds. Independent? Yes. Strong-willed? Absolutely. Different? We noticed, yes. But autism? Never.
At around age 3, Margaret joined a preschool class for the first time. We immediately noticed that she had no interest in interacting with the other kids in her class of 20. She was content to play independently or, as her teacher put it, wander from table to table, observing but never really engaging. The kids around her began to pick up their numbers and letters and draw pictures for their moms and dads. Margie refused to join the teacher at the table, let alone hold a pencil or crayon.
Margie began to withdraw more and more into herself at home, too, repeating the same stories repeatedly, with shocking precision and consistency, and avoiding the neighborhood kids. I remember looking at my husband and saying, "Why does it seem like her world is getting smaller and smaller. What if someday it no longer includes us?"
At her 4-year checkup, our trusted pediatrician, hearing all our concerns, suggested we have Margaret evaluated for autism. The first thing we did was sit down with the director of her preschool. "Margaret is autistic." We said, "Let's make a plan." Their response, "Oh, that's nonsense. Margaret isn't autistic. She's just stubborn and anti-social. We all know that." After a few deep breaths, counting to four just as Daniel Tiger tells us to do when you "feel so mad that you wanna roar," I excused myself from the meeting and resolved not to bring Margie back after the upcoming spring break. I picked up the phone and made a call to a place called The Westview School.
A First Look at Westview
The Westview School was recommended by Margie's psychologist, so we thought we'd give it a try. My husband and I, accompanied by my pleasantly Midwestern but deeply protective mother, visited Westview for a tour in February 2020. I felt myself breathing more deeply from the moment we walked through the doors. We were welcomed into the school and, in our first meeting, were asked very simply, "tell me about Margaret." That was the very first priority - to learn about Margaret. I'm sure my first words were hesitant, laced with the caution that special needs parents learn to use.
"Margie is wonderful. We love her so much. She is ... a lot. She wants to make friends but doesn't seem to know how. She is having trouble academically, but she is really so smart. Have I mentioned that she is...a lot?"
Unphased, the response was, "we can't wait to meet her."
As we walked the halls that first time at Westview, I noticed that the faculty, staff, and students going about their days seemed genuinely happy. Everyone was at ease with each other and relaxed. I began to relax, thinking, "Wow. "I can see Margaret here."
The final decision was made when we walked into a small PE class. Without introduction, a little boy walked up to us and said with great delight, "My daddy works in a tall building every day. It's a very tall building. He wears a shirt just like you."
When we saw the same little boy later in the tour, he grabbed our attention again, "Oh, hello! Let me tell you about my daddy and his very tall building. It's a very tall building. He wears a shirt just like you." Nobody shushed him. Nobody, adults, or other kids, seemed phased because he was repeating the same story. We smiled and thought, "yep, these are Margaret's people."
These Are Our People
These are our people. We were right. From day one, the twinkle in the eye of administration as I shared stories of Margie restyling herself as a ballerina named "Ina," to the warm chuckles during Margie's admissions interview, in which she sang a jazz-style version of the ABCs, excused herself to go to the bathroom, and never returned...to the warmth I hear in the voices of Margaret's teachers when they tell me about her day, even the not so great ones; to the welcome, she gets every morning in carpool "Hey, giggle box…."
I am struck again and again by this one resounding truth - they like my kid. They see my child for the beautiful, comical, complicated, smart, sensitive, autistic child that she is and appreciate her in all her quirks. They see her as we do. More than that, they see and have allowed us to see the wildly capable adult that Margie can someday become.
With the benefit of the uniquely small class sizes, patient and skilled educators who really get autism, therapies on-site at The Stewart Center, support specialists who are there for Margaret and our family when things get a little rocky, and Margie's own grit and determination, I am thrilled to report that Margie is thriving academically and socially. She is writing and sounding out words. She loves math. She draws and sings us songs. She has friends and loves to see them every day. Her future is as bright as she can imagine. Currently, she wants to be a meteorologist. If that doesn't work out, she says, a lifeguard. Whatever path she chooses, I genuinely believe that she will grow as a person who, above all else, loves herself. Westview has shown her, by example, that she is lovable… and capable. They have shown her that she is deserving of her dreams. For that, we are so grateful.
--
This post is an excerpt from a speech given by Elizabeth Gretter at the Westview Fundraising Luncheon held at River Oaks Country Club on Wednesday, March 30, 2022. Elizabeth has been a parent at The Westview School since August of 2020.
Help us continue to make an impact on the lives of families and children across Houston with your tax-deductible donation to The Westview School. Please click here to support our school and mission.