Celebrating Success: A Grandmother's Story
April 20, 2023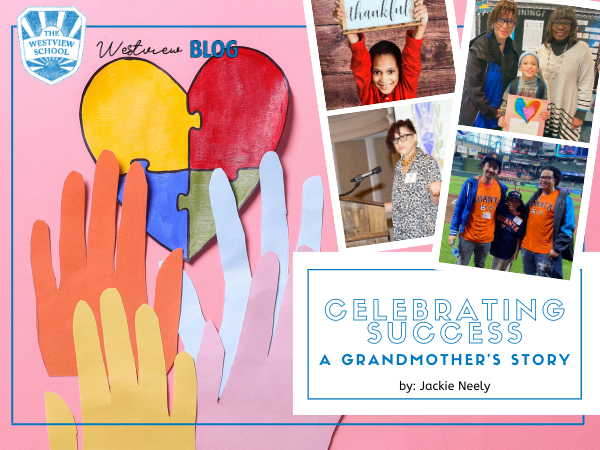 Meet Ryan, an outgoing and friendly 10-year-old in Upper Elementary at The Westview School. Ryan is in his fourth year as a student at Westview and is just one of many success stories of children on the autism spectrum who have thrived in Westview's nurturing and supportive environment. At the Westview Fundraising Luncheon held in February 2023, Mrs. Jackie, Ryan's grandmother, gave an emotional and heartfelt speech celebrating Ryan's success at Westview and what being a part of our school and community has meant to Ryan and their family. Read on for Ryan's inspiring story, as told by his grandmother, Jackie.
BEFORE WESTVIEW
Ryan was born healthy at 8lb and 8oz. in the Summer of 2012. Due to his mother's medical condition, I received Ryan at two weeks of age, and sadly both his mother and father in the same year. My husband and I adopted Ryan and are blessed to be his primary guardians. My family pulled together to care for this precious bundle of joy with feeding schedules as if we were first-time parents again.
My story is very different from a first-time mother because I had already raised three sons before my grandson, and I knew what meeting milestones looked like. As a child, Ryan was active and progressed by meeting his developmental milestones. At about 18 months, I noticed a regression in his behavior and mannerisms, which I attributed to his lack of interaction with other children.
I enrolled him in a Mother's Day Out Program at age two. He was unsuccessful in interacting with children; his appetite decreased, and his sense of smell and noise intensified. He would place toys in a straight line, indicating that something was afoot developmentally. The change in his behavior and habits became alarming, so I contacted his doctor and was referred to ECI – Early Childhood Intervention. Upon completion of tests at ECI, he received occupational and speech therapy. He was referred to Texas Children's Hospital and diagnosed at age 3 with autism spectrum disorder, speech, and developmental delay.
He began his educational journey in the public school programs through Fort Bend ISD. Finding quality educational facilities for an autistic child has had many challenges. After leaving Fort Bend ISD, Ryan enrolled in ABA Therapy. After talking with my friends and having them reach out to other friends, I was given a list of schools to research, and Westview was at the top of the list. When I entered the Westview building, I had the epiphany that this was the place where Ryan would receive exceptional educational services.
THRIVING AT WESTVIEW AND BEYOND
Westview provides a safe and supportive environment compared to the low-performing school Ryan is zoned to. The smaller classroom sizes and student-to-teacher ratio help create the nurturing environment we value so much from Westview. In first and second grade, Ryan loved to give hugs, and this was a problem for some of his classmates who did not like to be touched. With the care and patience of his teachers, they could re-direct his behavior and provide him with an understanding of his actions.
The Westview School has provided Ryan with the necessary services required to aid him in developing his social and behavioral skills and has helped him succeed both in and out of school. Ryan is a model student and has received numerous Wonder Wall awards at Westview. Ryan says his favorite subject in school is Math, but like Houston's weather, it changes often. Outside of the halls of Westview, Ryan has made us proud by becoming one of four honorary ambassadors for Easter Seals Greater Houston 2022-2023 year.
THE WESTVIEW DIFFERENCE
The Westview staff and Ryan's classmates have become our extended family. One summer, during Ryan's 7th birthday, one of his classmates mailed him the most thoughtful gift. A box full of Hot Wheels, his absolute favorite, and to this day, he always mentions it. On another occasion in Ryan's 2nd-grade year, one of the staff members brought him to carpool and informed me that I would have many people over to my home tonight. To my surprise, I gave a puzzled look and asked, Oh really now? She then said that Ryan had invited all the staff over for fried fish because that is what his dad makes every Friday. And that is Ryan, a true lover of family and friends.
Each child is uniquely different, and the staff here at Westview have been exceptional in meeting the needs of each student. When my sister passed two years ago, the news of her unexpected death confused Ryan. They were very close, and I was at a loss for words on exactly how to have that discussion with him. This was his first time attending a funeral, and I needed help explaining what to expect. I reached out to the behavior specialists at Westview for assistance. And within a few days, I was given a social story for Ryan outlining what would occur on the day of the funeral. At the service with Ryan sitting next to me, I started to cry, and Ryan put his arm around me and said, "Mom, it's going to be okay." And at that moment, I thanked God for putting Westview in our lives.
---
This post is an excerpt from a speech given by Jackie Neely at the Westview Fundraising Luncheon held at River Oaks Country Club on Wednesday, February 15, 2023. Jackie is a current parent of The Westview School. Her grandson Ryan has been a student since
Help us continue to make an impact on the lives of families and children across Houston with your tax-deductible donation to The Westview School. Please click here to support our school and mission.