Making the Transition: Common Questions About Moving to a New School
December 14, 2022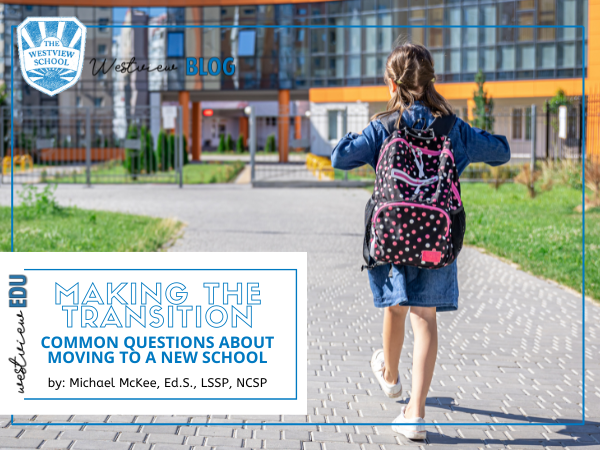 Transitioning your child to a new school or program can be daunting. Michael McKee, Support Specialist, is here to answer the most common questions about transitioning to a new school.
HOW DO YOU KNOW WHAT SCHOOL IS RIGHT FOR YOUR KIDS?
Consider your priorities. You may be most concerned about your child's academics or social skills. Maybe you want to ensure your child is in a loving and safe environment. Once you decide on your priorities, this can help you focus on what you need. It is also essential that the parent is honest about what their child can and cannot do and what their child needs.
Sometimes, there is a disconnect between parent expectations and child abilities. This is especially important when discussing your child with a new school. Be upfront about your child's strengths and weaknesses. The last thing you want is to paint a false picture of your child. This will likely lead to confusion, frustration, and more meetings. In some cases, your child may be asked to leave a school, which puts you back at square one for finding a new school.
When looking for schools, it is also important to do your research. Take a tour and ask questions. Get information from current and former families. Get information online. Facebook groups are one way to get information about a school; however, you should take all information you get online with a grain of salt. Understand that most "reviews" that get posted online are only from folks who are either really happy or angry and that the real story often falls in between. Typically, most schools and programs are not always as good as their best reviews and are not always as bad as their worst reviews.
Finally, I always tell parents to go with their gut. If their gut is telling them that something feels "off," then there probably is something not right. If it feels right, that is generally a good sign.
HOW DO I KNOW WHEN MY CHILD IS READY TO TRANSITION?
When considering if your child is ready for a jump to a more mainstream program, certain skills can help a child be more likely to be successful in that transition (in my opinion). Independence is a skill that helps with both academic and non-academic tasks. In the school environment, it is important to understand that you do not have to know how to do everything. Part of independence is having the problem-solving skills to know how to solve a problem (i.e., where do I go to get help, who can I ask for help, etc.) In that same vein, compliance is another important skill that will be expected in schools. Many schools and teachers expect students to follow directions and do as they are told. Willful disobedience is generally frowned upon in most school settings. Unfortunately, difficulties understanding language and social expectations can sometimes be misinterpreted as disobedience. This goes back to why it is essential to be honest about what your child can and cannot do.
Additionally, it is helpful for a child to have a level of social awareness. In this sense, what I mean by "social awareness" is a level of understanding to help navigate tricky social environments—for example, knowing when someone is angry and needs space or when someone is being sarcastic. Most importantly, it is knowing when and knowing how to avoid bad situations. It is knowing that you should not hold a bag for someone you do not know. It is knowing when you should not trust someone to do something they are promising they will or will not do (i.e., I will pay you back, I won't tell anyone, etc.). It is also knowing which adults you can trust and which you should not. These skills can be challenging for most kids, but they are especially tough for our friends on the spectrum.
WHAT CAN I DO TO HELP MY CHILD WHEN IT IS TIME TO MAKE THAT TRANSITION?
Prepare your child and the school. For your child, it is helpful to have them visit the school beforehand (if they have not already) and do a quick run-through of drop off and of their first day. If possible, have them walk their schedule with an adult to help them know where their classes are before the halls get hectic with other students. Hopefully, your child can also meet the teachers and other important adults (i.e., counselors, nurses, assistants, etc.) that they will interact on a regular basis. If possible, allow your kids to help make decisions relating to the transition. Allowing your child to have some "buy-in" on the transition (Such as having them decide what to wear for the first day or allowing them to pick out some clothes or items with the new school's logo) can help them feel as though they have some say in the matter. Social stories can also be helpful for helping children understand both leaving one school and starting another. For the school, you can create a quick one-page document about your child to share with staff who will interact with your kid. Include their picture, their likes and dislikes, and other important information for them to know.
Transitioning to a new school can present challenges, but knowing the right time, choosing the right school, and offering help to your child during the process can make this change go smoothly.
Michael McKee is available to our Westview families who need assistance or support with a school transition.
–
Michael McKee, EdS, LSSP, NCSP received his Master of Arts Degree and Educational Specialist Degree in School Psychology from Middle Tennessee State University (MTSU). After an internship, he spent seven years as a Licensed Specialist in School Psychology (LSSP) working for Texas public school districts in Burleson, Frisco, and Katy, where he conducted evaluations and worked with students with emotional, behavioral, and/or developmental disabilities, including those with autism spectrum disorder. He has also previously worked in the Dyslexia Center at MTSU and as a Crisis Counselor at the Family and Children's Services' Crisis Hotline in Nashville, Tennessee. Michael's main areas of interest include autism, assessment, positive behavior supports, and parent advocacy.
This blog post was adapted from the presentation given during WestviewEDU on Thursday, December 1, 2022. WestviewEDU is an education series presented by The Westview School for parents and caregivers of children with autism spectrum disorder. For a full list of WestviewEDU sessions for 2022/2023 academic calendar year, visit The Westview School online.