Autism at Work: A Look at Neurodiversity in the Workplace
April 26, 2022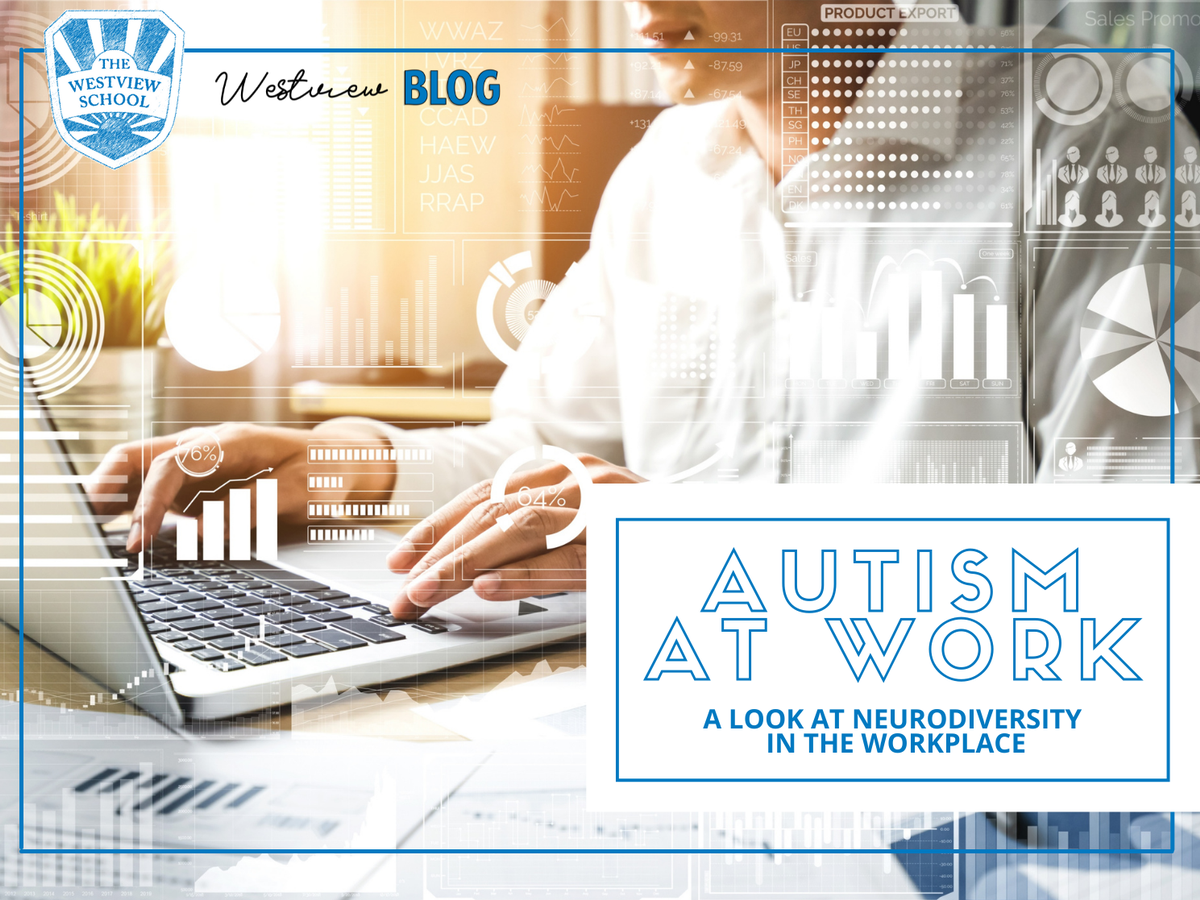 A recent Facebook post from Westview parent Rex Burch, a Houston attorney, touting the benefits of hiring a former Westview student at his law firm: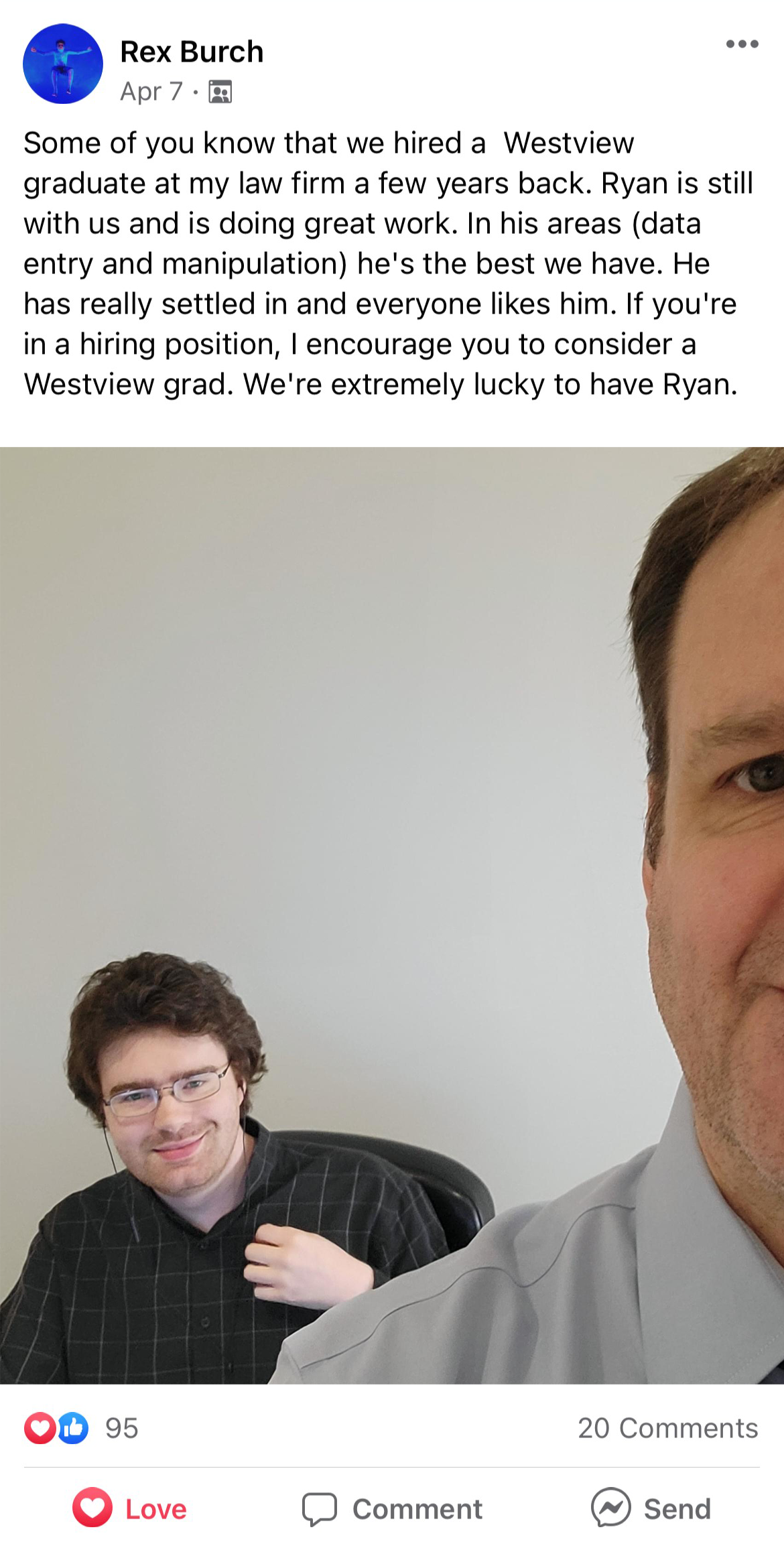 "Some of you know that we hired a Westview graduate at my law firm a few years back. Ryan is still with us and is doing great work. In his areas (data entry and manipulation), he's the best we have. He has really settled in, and everyone likes him. If you're in a hiring position, I encourage you to consider a Westview grad. We're extremely lucky to have Ryan."
Ryan Malik was a student at The Westview School from preschool until sixth grade. After transitioning to homeschool for his remaining middle school and high school years, Ryan enrolled at the University of Houston and began working towards a bachelor's degree in cultural humanities. Ryan returned to The Westview School in 2018 and worked as a psychology practicum student at The Stewart Center through the end of the 2019 academic school year.
When asked about his time as a student at Westview, Ryan remembers how accommodating Westview was for kids with autism. "[Westview] was quiet and nice. So many other schools demand you learn in a specific way, and the atmosphere is very different [at Westview]." A typical school seemed chaotic and overwhelming to Ryan, but Westview "felt calming."
Finding employment is a challenge for many young adults, autism or not, and Ryan was looking for work post his internship with The Stewart Center. One way that Ryan helped position himself for employability is that he took online courses via LinkedIn. This self-paced learning on how to use Microsoft Word and Excel gave Ryan a strong set of skills to bring to his next job. "I know so much about how to work Excel and Word," said Ryan. Ryan describes sometimes losing interest and lacking motivation in certain subjects, but he had found something that interested him, he excelled at, and he was able to focus on. When he started looking for a new place to work, he had a high level of self-taught skills to bring with him.
"Dr. [Natalie] Montfort approached me about Rex [Burch] looking for someone to do data entry at his law firm," said Ryan. "I said 'yes,' quickly to the opportunity." Three years later, Ryan is still there and enjoying his job. And according to Rex Burch, Ryan is a key member of Bruckner Burch Law Firm.
Ryan's daily job tasks at Bruckner Burch vary, but a typical day will find him answering incoming calls, taking messages, and transferring calls to the paralegals. He will sometimes pick up the mail, but Ryan's primary function is data entry.
"We have hired lots of people at this firm who have done data entry. [Data entry] is a very valuable job in many organizations - law firms in particular." Rex had high praise for Ryan's data entry skills and his contribution to Bruckner Burch: "Ryan is the best. It's not that he keeps pace with everyone else. He is the best."
Rex added that Ryan is no different from any other employee at the office. "The only 'support' that Ryan receives that other employees don't is that we bring him back and forth to work daily in an Uber or Lyft," said Rex. "Once he is at the office, no other support is required."
Ryan and Rex communicate very well with each other. Rex shared, "One of the things Ryan understands is if I say do 'this,' I mean you should do it exactly like 'this.'" Rex confessed that a big problem at work is when he instructs people to "do this" they may think what he means is "do that." Rex said, "That's not a problem I ever have with Ryan."
"Once I know what I am supposed to do," said Ryan, "I follow it to the letter." When discussing his strength, Ryan showed very good self-awareness because he also recognized that "this can be one of my greatest weaknesses." If an instruction gets left out, Ryan doesn't do it or "misses" a step. "[My co-workers] don't consider that I sometimes won't intuit what I'm supposed to be doing without being explicitly told first."
Rex was not surprised by Ryan's assessment of his perceived weakness. "Ryan picks on himself about it being a weakness that he doesn't intuit what he's supposed to do," said Rex. But Rex says that if you give Ryan a job, and it comes out different from what you expected, it is because you didn't tell him correctly. Ryan will do what you say to do, not what you want him to do.
Rex also highlights Ryan's ability to focus as a vital asset in the workplace. Rex describes a light shed moment at work. A large part of Ryan's job duties consists of data management and the manipulation of spreadsheets; Rex had a particularly vexing data problem and needed an answer. He explained it to Ryan, thinking he would likely get a response by the end of the week. "I am not exaggerating this in any way," said Rex, "Ryan literally walked over to my computer, went to the upper left-hand corner, and said, 'change this to this,' and the entire spreadsheet changed like that," Rex snaps his fingers, "The change gave me the answer I was looking for and the process took no more than five minutes."
Ryan smiled and nodded his head at Rex's retelling of the event. When asked if he recalled the story, he said "yes."
Ryan feels encouraged by Rex's assessment of his job. "Many [neurotypical] people out there feel like people with autism are incapable," said Ryan, "but my ability to focus makes me a valuable asset."
Ryan had some closing words of wisdom for Westview students and the people looking to hire them. "More often than not, people from Westview can go on to have successful lives. Because of their unique skills, they would sometimes be a valuable asset to wherever they work."