Four Things that Matter Most: Insights on Autism from a Westview Father
November 03, 2021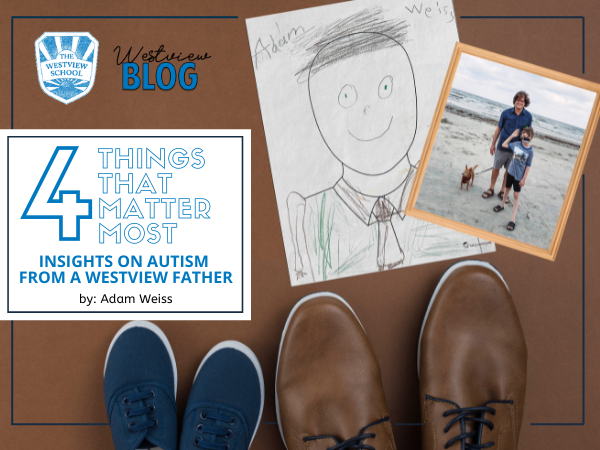 My initial feeling when asked to write about my experience as a Westview dad was, I was flattered. I am thankful to write and share our experience about what the school has done for our son. I wish a school like Westview had been an option for me when I was a young student. I would have fit right in. You see, like my son, I, too, am on the autism spectrum.
Being an autism dad who is also himself on the spectrum has given me some unique insights to share with all Westview parents, particularly with the dads and those with a more recent diagnosis.
My first bit of advice: don't fear for your autistic child's future. You will hear many negative-sounding symptoms: "flat affect," "mind blind," and the like. You will hear about people on the spectrum having difficulty building lifelong friendships and finding employment. But autism has many wonderful traits: Honesty. The ability to hyper-focus. An ability to retain knowledge on a variety of subjects. The ability to cut to the chase on essential things. I am a principal in an architecture firm, and these traits specific to an autism diagnosis have been indispensable to my professional success. Your child, too, can excel professionally.
Secondly, you might hear that people on the autism spectrum lack emotional intelligence and can't be empathic. Don't believe it. Your child on the autism spectrum loves you more than you can know. They may show it a little differently. Recent research says that people on the autism spectrum might feel emotions more intensely than others and that the lack of emotional awareness results from these more intense emotions. It is widely known that kids on the autism spectrum, and adults, can get overwhelmed and need to learn how to self-regulate. The Westview School does a tremendous job helping its students with this. Shout out to our Support Specialists, Mimi Le and Michael McKee!
Third, embrace your child's "special interests." This is not always easy in the world we live in today, with a significant focus on standardized tests and developmental benchmarks. Kids on the autism spectrum are often advanced in one area and behind in others. There's always a temptation to focus on the weaknesses to bring them up to standard. "Special interests" are the key to happy and productive lives for kids on the autism spectrum. Architecture has always been my "special interest," and it has become a lucrative career for me. At Westview, we have budding computer programmers, illustrators, TV producers, like my son. These are all potential careers and can start to be recognized in students at a young age.
Finally, finding a place where your child can grow and learn is an essential first step in helping your child be the best version of him or herself. Westview was that important first step for our family. The Westview School is amazing. Our son is in his sixth year at Westview and has shown so much growth since he started here in the Early Childhood Development program. He, and I, have learned a ton in these years. I am confident that you and your child will, too. Always stay positive and follow your child's lead. You won't be disappointed.
My only regret is that there wasn't a place like Westview for me when I was a child!
--
Adam J Weiss, AIA, has been a Westview Parent since 2016. He is a registered architect and principal in a mid-sized firm in Houston.