In the Words of a Mother
May 05, 2022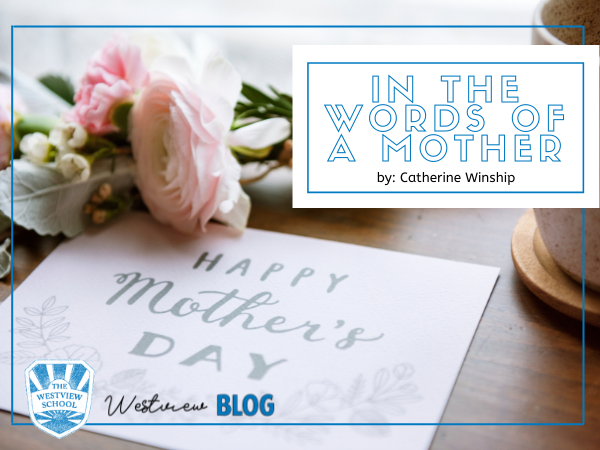 As we pause to celebrate our Westview moms and recognize all mothers on this weekend's national holiday, we are thankful to one of our own, Catherine Winship, mom to Upper Elementary student, Joe, who in her own words, offers an honest and reflective post on motherhood and how profoundly it teaches, grows and changes us all – both child and mother.
The day is approaching when the world reminds us that it's time to stop and recognize those that rarely stop at all, those whose tasks are often carried out under the radar where recognition doesn't reside. Regardless of how many children call us "Mom," the title is great. Mother's Day is a day that invites us to pause and reflect on what "Mom" really means, and how it manifests in that one person in our lives. Love, faithfulness, and patience dominate the words of greeting cards on this day, and rightly so! But what the greeting cards don't often address are the ones that call us mom. Our children give us this title, and in doing so take us on a journey into the depths of our own souls. What we discover there may never have been unearthed if not for our kids. We are considered the teachers, but I would argue a reversed truth - our children are our greatest teachers.
All children bring with them a myriad of experiences that inevitably become a mother's own reality. Kids grow and change with every day that passes and we, as their mothers, do the same. Their gifts, talents, passions, and challenges pave the path that we join them on. We are intrinsically intertwined with our children and that bond is steadfast. We may have ideas or ideals about what we think our children should be, but the greatest irony of being a mother is learning that control is most often an illusion. This brings me to those moms that have so deeply learned this lesson - those that have children who don't fall into the neat box that the world has drawn in permanent marker. Undoubtedly, for every mom in this position, this absence of control was felt with all of their mind, body, and soul - likely one of the most all-consuming lessons of their life.
BUT...
Moms may not be able to control everything, we may not have chosen to write our story as it has been written, and what a gift that is! The result is the fulfillment of, with the greatest magnitude and intensity, everything it is to be a mother. Our kids that exist outside the lines, take our hands and show us how full those words on the greeting cards can be. We get motherhood bigger, stronger, richer, and deeper. What is life about if not experiencing a love that grows and changes us, a love that writes its own story and takes us to places we never thought we would go? How perfect the story is, how vital the characters are!
--
Catherine Winship has been a Westview parent since August of 2015. Catherine writes and hosts a blog called One Autism Experience where she shares her family's personal experiences navigating the world of autism.