A Shot of Hope: 9 Common Questions on COVID-19 Vaccines
February 04, 2021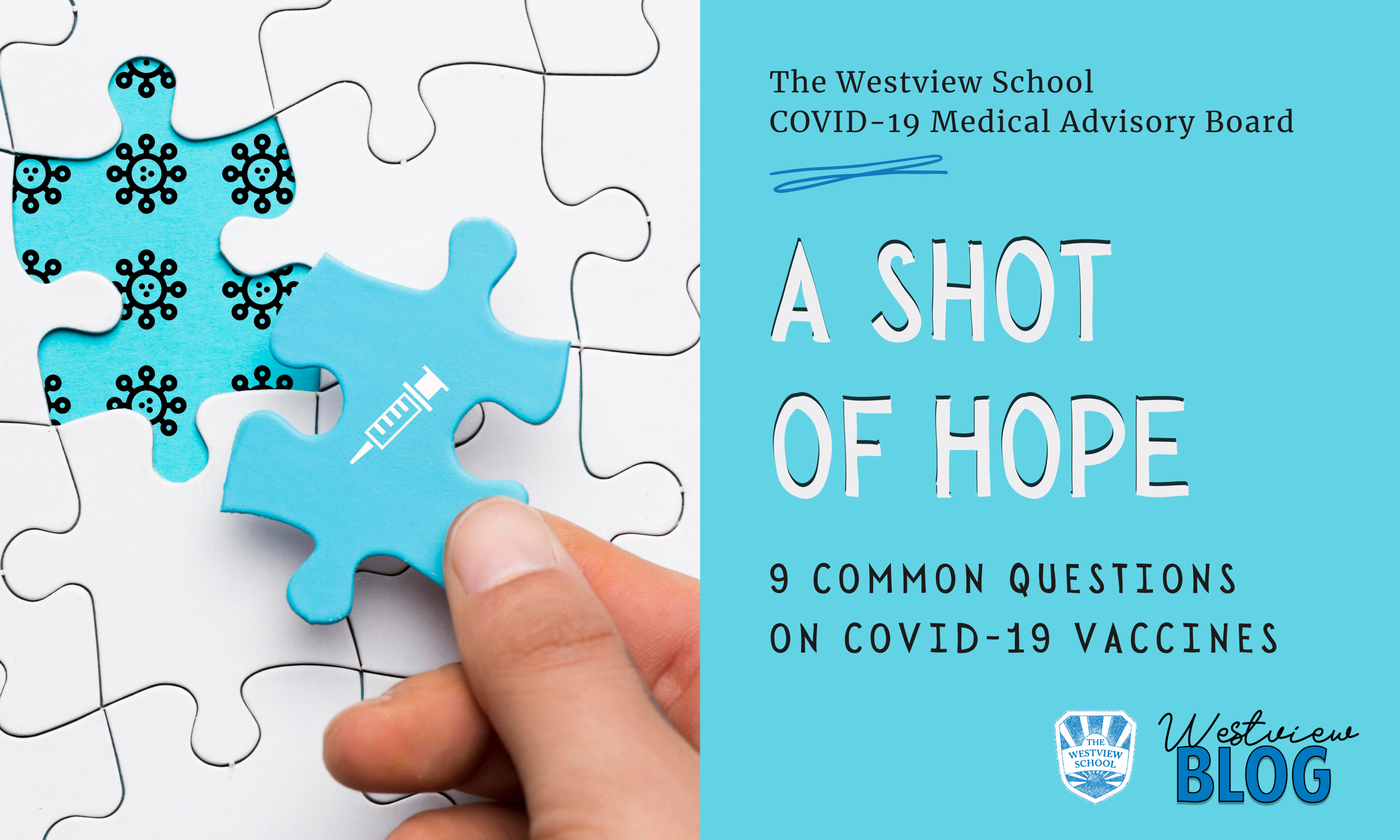 1. What are the vaccines available? How do they work?
There are currently two vaccines available to people in the United States: the Pfizer vaccine and the Moderna vaccine. They are both nucleic acid vaccines, specifically mRNA (messenger RNA) vaccines, and they work similarly.
mRNA vaccines do not change your DNA, and they don't even have the tools needed to enter the cell's nucleus where the DNA is located.
These vaccines work by teaching the body to make antibodies that will bind to the proteins on the virus. By binding to the virus, the virus will not be able to infect new cells.
Because of the way the vaccines work, it is IMPOSSIBLE to catch COVID-19 from the vaccine.
2. Are the vaccines safe?
Yes, both the Pfizer and Moderna COVID-19 mRNA vaccines have received emergency approval from the US FDA (US Food and Drug Administration). This approval was given after undergoing clinical trials in which they must show that they are safe and effective. The data were examined as late-stage trials are on-going, at the end of the trials, and even after the vaccines are available to the public so that any concerns can be immediately addressed.
Emergency use approval is available during emergencies like pandemics. They are only given after enough safety and effectiveness data is available from clinical trials, there is sufficient manufacturing data evaluating the quality of the product, and other aspects of the vaccine development and testing are thoroughly reviewed.
If the trials show that a specific vaccine is not safe and/or effective, that vaccine's trial will be paused until the details can be investigated further, or it will be stopped altogether.
All vaccines and drugs must follow this process before becoming available to the public. There are no short-cuts in determining safety and effectiveness.
3. How did they get approved so quickly?
Like everyone else, scientists were affected by the worldwide pandemic, so they were motivated to find an effective, safe solution quickly. This was achieved in a few ways:
There was work already being done on mRNA vaccines, so some of those groups pivoted to work on the coronavirus vaccines.
Research groups were already working on ways to improve the speed of vaccine manufacturing.
Funds were immediately available to companies to begin clinical trials and run multiple trials at once. Usually, companies and scientists need to raise money, apply for grants, or both.
Study volunteers were more easily recruited than is typical for clinical trials. It was easier to test the vaccines' effectiveness as many people are exposed to coronavirus in the population.
The paperwork was reduced, but the scientific process wasn't cut short. The approval process was very thoroughly conducted and reviewed.
4. Will they help against the new strains?
Yes, both the Pfizer and Moderna vaccines seem to be effective against the B.1.1.7 variant and the B.1.351 variant, although there is a small but significant decrease in neutralizing antibodies.
As new variants arise, the vaccines can be adjusted to include the new variants, and/or boosters can be given to address the variants.
The vaccinations can help prevent or limit new mutations as the vaccinations reduce the chances for coronavirus to replicate and mutate if most people are vaccinated.
5. What are the common side effects of the COVID-19 vaccines?
The most common side effects are soreness at the injection site, headache, muscle ache, chills, fever, joint pain, and fatigue.
Taking acetaminophen or NSAIDs BEFORE the vaccines is NOT recommended because we don't know if pain relievers will reduce the vaccine's response. After the vaccine, it is okay to take them if your healthcare provider allows it.
The side effects usually last about 48 hours after receiving the vaccine.
The side effects seem to occur more often with the second dose, but they are still less severe than the symptoms of having COVID-19. You will still need to have two doses of the vaccine to get the full benefit (95% efficacy).
6. What are the long-term effects of the vaccines?
Since both COVID-19 and the vaccines are new, we don't know the long-term effects of the vaccines, but the trials are not showing signs that there are long-term side effects. Thankfully, the studies will continue to monitor study participants over time.
We do know that there are some significant longer-term effects of COVID-19 after initial recovery, so it is better not to get COVID-19 in the first place.
7. I have already had COVID-19. Do I still need the vaccine?
Yes, because we don't know how long natural immunity will remain after infection, some early studies have reported that immunity from infection may not last long.
Since there is a risk of being reinfected with COVID-19, the vaccine can help prevent future infections.
8. Can kids get the vaccines?
The Pfizer vaccine is approved for people 16 years old and older. The Moderna vaccine is approved for people 18 years old and older.
Both companies have started trials in children 12 years old and older, and trials for younger children will be conducted after the "teen" trials.
9. Can I ditch my mask after I get both doses of the vaccine?
Not yet- you'll still need to keep a mask on, wash hands, and social distance! The vaccines take some time to be effective after being given, and none of them have 100% efficacy- this means you could possibly still get sick.
Being fully vaccinated AND wearing a mask AND social distancing AND regular handwashing are all factors that work together to keep you and your loved ones healthy!
We are unclear whether being vaccinated will prevent you from spreading coronavirus to others, even if you don't have any symptoms.
When your priority group for vaccination comes up, please make a plan to get your COVID-19 vaccine. As always, please consult your healthcare professional for medical advice.
This pandemic has been a difficult time, and we are overjoyed by how well the Westview community stands together. Continue to take care of each other and yourselves, Wildcats!
Wishing you good health and happy days,
The Westview School COVID-19 Medical Advisory Board
--
The Westview School COVID-19 Medical Advisory Board is comprised of Westview parents and former parents with experience on the front line during this pandemic. These highly-trained professionals work in many different fields of medicine, such as epidemiology, pulmonology, and critical care. This group of medical professionals continues to be an invaluable resource to The Westview School leadership team.