Key Ingredients to a Successful Early Childhood Development Program
January 11, 2021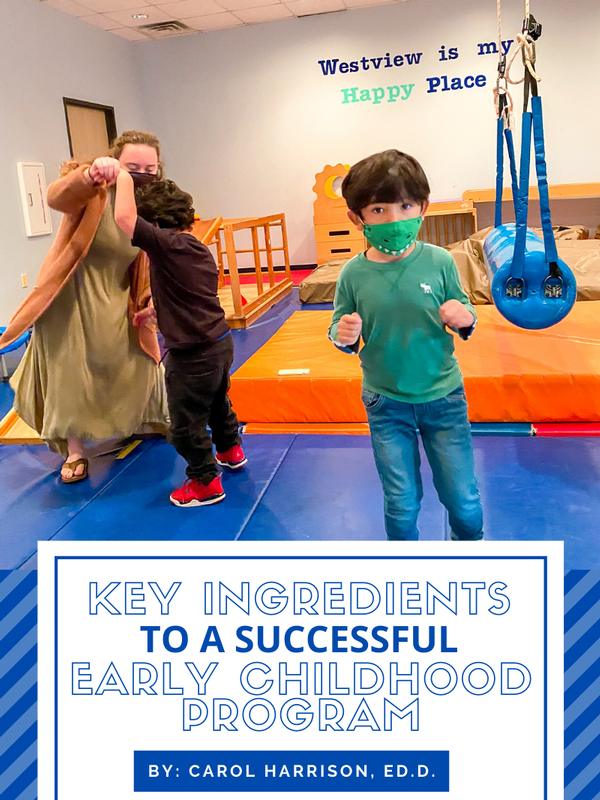 When Grayson Garcia first walked into The Westview School at the age of three, his parents would have described him as grumpy, agitated, easily upset, and angry all the time. He had minimal language, and outside of his parents and brothers, he did not connect well with others. A lengthy evaluation process and an autism spectrum disorder (ASD) diagnosis led the Garcia family to The Westview School. After a tour of the campus, the Garcias had hope that Westview would be a fit for their son.

Joni Garcia, Grayson's mom, remembers the day she brought Grayson in for a visit in the Early Childhood Development (ECD) class. "Grayson took two steps into the lobby and stopped," Joni recalled. "He looked at me, and then down the long hallway, and then over to the reception desk where Ms. Candi sat. Grayson threw himself on the floor and began to scream and cry."

At Grayson's initial reaction to the visit, Joni felt her hope start to fade, but what happened next is just one reason why Westview is an answer to so many children and families.

"Ms. Candi stepped out from behind her desk, grabbed a wagon parked in the hallway, rolled it over to Grayson, and with ZERO emotion said, 'well, if you wanted to ride in the wagon Grayson, all you had to do is say so.' Grayson immediately stopped crying and just stared at her, and then without a word, hopped in her wagon and was rolled down the hallway."

That interaction began three years of a nurturing and supportive education at the Westview School that prepared Grayson to transition to a special education program in a public school and eventually into a mainstream general education class.

So, what is it about The Westview School that helped Grayson become a mainstream success story? When it comes to early intervention for ASD children, what are the key ingredients for a successful Early Childhood Education Program that families should look for?

1. A strong early childhood program will have teachers and staff with experience and training in connecting with children with ASD. Traditional daycare programs are loving, safe environments that ensure basic needs such as feeding and changing are met, but many times the teachers don't have the training or experience to know how to connect with children with ASD. Joni realized on her first day at The Westview School that it was less about Grayson connecting but more about someone else being able to connect with him and speak his language.

2. A low student to teacher ratio ensures that each child gets the individual attention and support they need. Limiting class sizes to a maximum of five students with a teacher and assistant ensure fewer distractions and more opportunities for student participation in lessons. Also, smaller groups allow teachers to differentiate instruction, engage with each student, and better facilitate student to student interaction.

3. Effective ECD teaching should be based on research-based methodologies and strategies. Young children with ASD need a program designed to develop self-regulation, attending skills, and joint attention. Strategies for Teaching based on Autism Research (the STAR program) is a research-validated program that includes guided lesson plans, teaching materials, data systems, and a curriculum-based assessment in six curricular areas.

The STAR Program uses curriculum-based assessments to identify performance levels for each student, based on a scope and sequence of developmentally appropriate skills. Assessments are used to track and report student progress and identify instructional skills to be targeted for instruction. Children are engaged in high-interest, thematic units. As students learn how to self-regulate and attend, they are ready to work on pre-academic skills such as letter and number recognition, one-to-one correspondence, sorting, colors, shapes, and basic math vocabulary.

4. The development of communication skills is a core component of a strong ECD program. Emphasis is placed on expanding and contextualizing language within social interactions. Both expressive language abilities (labeling, describing, and comparing/contrasting) and receptive language abilities (identifying, matching, and sorting) are a focus of effective early childhood programs. Skilled teachers use a variety of structured activities to encourage and elicit spoken language. With a scaffolded approach to language acquisition, children learn to follow directions, complete tasks, and work in small groups within their environment.

5. Teacher facilitated social interaction is essential in ECD classrooms. In the most effective classrooms, teachers devise developmentally appropriate play situations to teach students how to play and interact with others. Peer relationships and appropriate social skills are acquired through guided play and interactive group games and activities. Students engage in various teacher-facilitated activities, such as pretend play, storytelling, role-playing, social routines (birthday parties, Halloween, etc.), and floor play to encourage group participation and interaction. Focus is directed toward exposing children to experiences that lead to a greater understanding of social expectations.

6. A focus on fostering self-help and independence should be a part of any strong ECD program. Self-help skills such as eating/drinking, dressing, and cleaning up play areas are intentionally incorporated into the daily schedule. Toilet training may be part of the daily routine. Children should be given the opportunity to make choices throughout the day and encouraged to become more independent. Using visual schedules helps students become more independent during transitions, restroom time, and other daily skills and activities.

Over two decades of autism research have shown that early diagnosis of autism spectrum disorder (ASD) combined with the prompt, evidence-based, and effective intervention will result in the best possible prognosis for children with ASD.

Research also indicates that in an appropriate educational setting, early intervention for at least two years before the start of primary school can result in significant improvements in language acquisition, motor development, academic achievement, social skills, daily living skills and also promotes independence in children.

Grayson is now in third grade. According to his parents, he is thriving in a general education classroom with 22 other typical kids. Grayson still has autism, but his diagnosis does not define him because of his success in the Westview School's early education.

Accepting students as early as 24 months, the Westview School proudly offers a high-quality early childhood program using research-based methodologies and strategies. If you would like to learn more about our early childhood program at The Westview School, visit our website or contact Carol Harrison, Ed.D.
If you think The Westview School could be a fit for your child, join us for our next Informational Session. The event includes discussions with our Admissions Director, Becky Mattis, about the student experience and program deliverables. Current parents will also be present to offer perspective and answer questions.
Register Here
--

Dr. Harrison brings a wealth of knowledge and experience to The Westview School following an extensive career as an educator and administrator. She served as an elementary school principal and special education administrator for 25 years in the public school system and later taught as a professor at Stephen F. Austin University. She holds a Doctorate in education.