The Westview School Blog
Posts Tagged "adhd"
February 20, 2020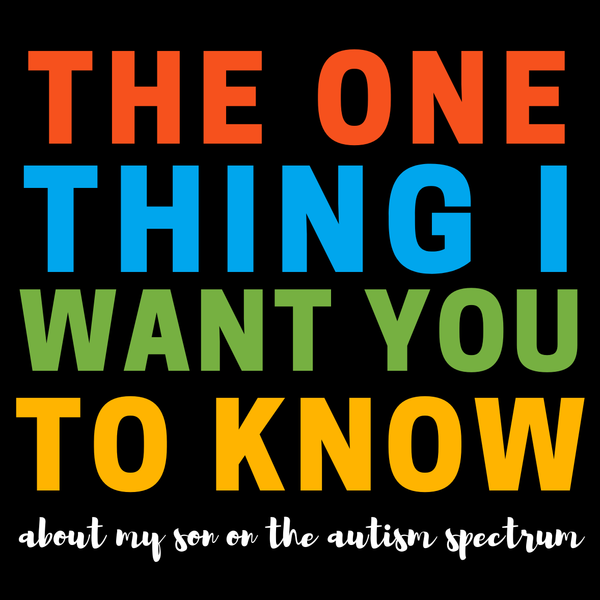 Have you heard the saying, "If you've met one child with autism, you've met one child with autism?" It is called a spectrum for a reason, and under the umbrella of autism spectrum disorder, you will find a vast differentiation of children and behaviors.
My son, Noah, is 12. As a parent, I am way past the point of explaining or apologizing for his differences in behaviors and communication. He is an awesome kid. As his mom, I know exactly how much time and effort and money our family has invested into growing Noah into the best version of himself. From therapy to special schooling, medications and doctor's visits, we have ten-plus years invested. For all his weaknesses, his strengths are many, and I can honestly say that I know how hard we have worked to hone those strengths. It is still a work in progress and probably will forever be.
This started as an article about 10 things I want you to know about my child with ASD. But, really there's only one thing I want you to know: WE NEED GRACE.
Grace has many definitions, but let's go with this one: "The disposition to or an act or instance of kindness, courtesy or clemency." There's a lot of talk about Autism Awareness. We even have a month for it in April as a reminder. But, what do you do in the face of someone who is different, and how will you teach your children to react to those differences?
There was time somewhere between his diagnosis at 24 months and now that I was more sensitive and less accepting of what I perceived as a deficit in my child. Was I doing enough? Was I doing the right things? Is everyone looking at us?
One moment always comes to mind. Noah was about 6 years old. He has always been high energy with difficulties in body regulation. Translation: he's super hyper out in public. It's funny because he's pretty logical, and he has a good moral compass of right and wrong. He knows how he should act in particular situations but somewhere between thinking and doing, things tend to go awry. We happened to be heading into his favorite store - Target. Before getting out of the car, I gave him a little pep talk. I call it front-loading, where I prepare him for what is about to happen next.
Me: "OK, buddy. Here's the thing. We are about to go into Target, and I want you to have a super quiet body."
Noah, with complete confidence in himself: "Got it, Mom."
But, as much as I tried to front-load, and as much as Noah thought he had this, walking into Target, the excitement of a favorite place couldn't keep his little body calm. He was immediately jumpy and chatty earning stares from the other shoppers. So, there I stood on the toy aisle, giving up the fight of keeping him quiet. I was letting him live his best Target life by bouncing up and down the aisles.
Another mom walked up to me. She said, gesturing toward Noah "is he… (awkward pause and whisper) autistic?"
I nodded.
She continued. "Have you tried therapy? Or diet? I have this friend…"
You could ask any autistic mom to fill in the blanks here. We've all been in this sort of a situation. And, man… it totally stings.
"Did you vaccinate?"
"Have you tried ABA?"
"Is he gluten free/casein free?"
"Have you seen Parenthood?"
She must have caught me at a weak moment because all I could think as I started to tear up was Noah was eight, and we had been in therapy and special schooling for six years. And, I was working so hard for him. He was working so hard. And, it just took one misplaced comment from a well-meaning fellow mom to bring up all the insecurities that in my heart said, "Are we doing enough? And is it all my fault?"
I always wonder how that particular situation could have gone differently, and why it has always stuck with me. Maybe just a "Good job, Mama!" would have sufficed. Maybe Noah isn't something that needs fixing. As a parent, we are always trying to challenge and improve our children, neurotypical or not. That's why it's called "raising" kids. We are all just working on different things. And, I am so proud of my child, and he's got so much to offer to our family and this world. He's smart and kind. He loves his sister and pizza. He's the fastest drawer I know, and his favorite color is red because it comes first… duh. He can pick out all the countries of the world based on size and shape, and he is an avid collector of graphic novels. And, one of the things, I am trying to teach him is showing love and acceptance to the people around him. Need something to work on with your kiddo too? It's a good one. Take time to say, "Thank you." Take an interest in the people around you even the ones who are different. Practice simple acts of kindness. Raising tiny humans is hard - autism or not.
And, I think the best we can do is show a little love and give a little grace and teach our children to do the same.
September 18, 2019
Do you know people in your home or classroom who are always losing their belongings, forgetting important items, getting lost from the kitchen to the bedroom, running chronically late, or just generally seems like a "mess?" Weak executive functioning could be to blame!
Executive functioning is a general term that refers to our mind's mental manager, or the cognitive processes that regulate our thinking and behavior. While there are many models of executive functioning, most include the individual's ability to generate ideas, initiate or begin a task, stick to and finish a task, flexibly problem-solve, shift from one idea or topic to another, inhibit our impulses, ignore distractions, regulate attention, regulate our behavioral and emotional responses, use feedback to guide future behavior, select relevant goals, organize materials, hold information in mind until needed, and more. I like to think of our executive functions as air-traffic control for our brain or as the conductor of the mind's orchestra.
When all is well, cognitive processes flow smoothly and behavior fits the situation as expected. When there are problems… well, just imagine the airport with poor air-traffic control! Executive functioning is needed for all aspects of life. Socially, we need executive functioning to help us regulate our behavior and emotions when we are upset. After all, throwing the board game when we are losing is frowned upon… particularly in adolescence or adulthood! We spend a great portion of time controlling our impulses to speak out in school or a meeting, to refrain from spending too much money, or even from overeating. Executive functions help us to arrive on-time, prepared, and with a plan for how to behave. They are also critically important for academic success. Not only are executive functions needed for decoding written text, reading comprehension, solving math word-problems, and long division, they are also needed to be an organized, efficient student who remembers homework and can plan for projects and tests. These days, if you are not in the right place, with the right things, at the right time, it is difficult to be a good student, no matter how bright you are! In fact, being in the right place, with the right things, at the right time is the very basis of holding a job.
When there is executive disfunctioning, life may feel chaotic or unproductive. The child or adult may experience social, academic, or employment difficulties and/or problems in the home. The good news is that executive functions are thought to be able to be developed or strengthened. These skills first begin developing in infancy as babies are learning to wait to have their needs met. They really come 'on board' in the brain around age two as children learn they are active agents in their own world. Beyond that age, executive functions are thought to keep developing into young adulthood. Just as they can be strengthened, executive functions can be weakened or damaged. Neurological insults from accidents, injuries, or other sources can impact executive functioning temporarily or long-term.
Executive disfunction is often part of the presentation of neurodevelopmental disorders such as Attention-Deficit/Hyperactivity Disorder, Autism Spectrum Disorder, and Specific Learning Disability. Although executive functioning is thought to be the most impaired in the aforementioned conditions, it is also implicated in conditions such as anxiety, depression, and even medical conditions such as low blood sugar. Problems with executive functioning are often what bring families to seek help from psychologists, psychiatrists, or doctors.
Understanding the importance of executive functioning is the first step to facilitating its development. The 'Practice Makes Perfect' principle applies here. If a child has no experience planning for their day or organizing their materials, it is unlikely that he or she will simply arrive at this skill in high school.
From the time they are small, children should be encouraged to help with planning and organizing. A toddler may not be able to make a sandwich, but they can help pack a lunch. Likewise, a young child who cannot do their own laundry can sort laundry or help pick out clean clothes for tomorrow.
Children can also help with the planning and preparation for parties, event, and projects. Learning how to react when what we want is not available, what to do when we forget something important, and how to persist with the temptation of distractions are all valuable skills that adults need to afford children. Children can have fun while they help adults with household tasks and learn these skills. They can also work on these skills in their play.
Childhood games have been shown to improve the executive skills of preschool children. Games such as Simon Says, Red Light Green Light, and Mother May I all help children to practice attending, inhibiting impulses, problem-solving, regulating behavior, and regulating emotions. For older children, yard games such as Freeze Tag and Capture the Flag can be helpful. Board games are also great ways to develop flexibility, inhibition, problem-solving, and shifting. Some favorites for young children are Candy Land and Chutes and Ladders. These games are great for teaching flexible thinking by changing the rules. Some fun examples are to play the board backwards or try to be the last one to cross the finish line! For older children, strategy games such as chess, Chinese checkers, or Risk may be helpful. Children and adults also tend to enjoy German-style or Euro board games. These games tend to minimize conflict and luck and emphasize problem-solving strategy. Some popular examples are: Ticket to Ride, Settlers of Catan, Small World, and Dominion. These games require planning, problem-solving, shifting strategies, and many other executive functions to master despite relatively easy game play and moderate playing times.
In addition to practicing executive functioning skills throughout life, accommodations and supports for weak executive functioning are often helpful. For example, making lists, using sticky-note reminders, using alarms, and having organizational systems in place can help support executive functioning skills. There are several books available with excellent strategies for support. Some of my favorites are: Smart, but Scattered: The Revolutionary "Executive Skills" Approach to Helping Kids Reach Their Potential by Peg Dawson and Richard Guare; The Explosive Child: A New Approach for Understanding and Parenting Easily Frustrated, Chronically Inflexible Children by Ross Greene, PhD; and The Asperkid's Launch Pad: Home Design to Empower Everyday Superheroes by Jennifer Cook O'Toole.
Executive functioning skills take effort and experience to develop over time. For families requiring guidance to facilitate growth in their loved one's executive functioning, many services and providers exist. The Stewart Center at The Westview School offers individual therapy to facilitate executive functioning in adolescents and adults, group therapy for fun skill-building in children, as well as parent coaching and case management to assist families in promoting these skills in their daily lives at home. For more information, contact 713-973-1842 or info@stewartcenterhouston.org.