The Westview School Blog
Posts Tagged "westview"
April 15, 2021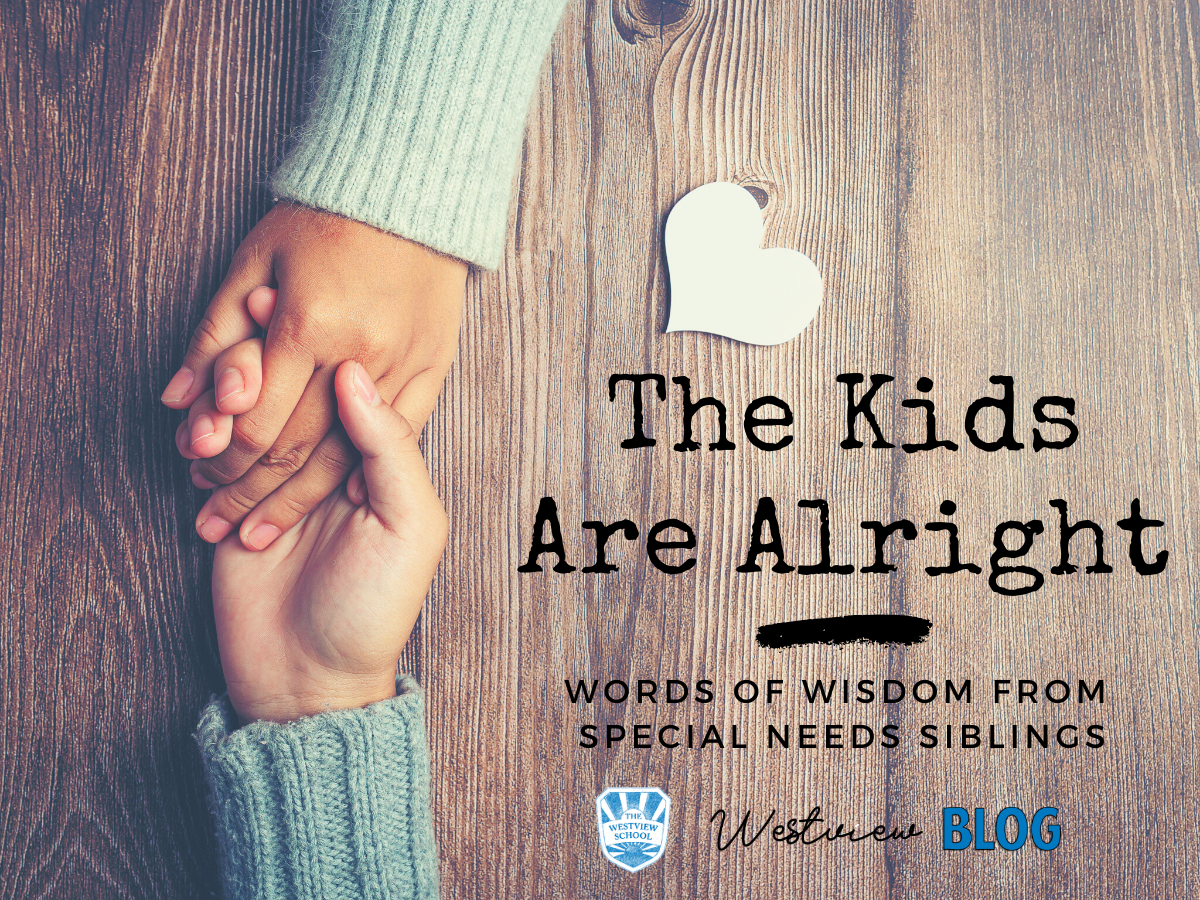 It has been said that you spend more time with your siblings than anyone else. It is one of the most formative and longest-lasting relationships a person will have. It is estimated that by age 11, siblings have spent more than 33% of their spare time together. When one of those siblings is on the autism spectrum, it is possible that the amount of time together may not differ, but the sibling dynamics certainly could. 
Big sisters become little mothers. Big brothers become protectors. Younger siblings learn to be helpers. When a sibling is diagnosed on the autism spectrum, older and younger siblings tag along to therapy appointments and commutes to special schools. They become aware of differences between themselves and their siblings very early on. However, the differences and awareness that come from having a special needs sibling can often positively influence both the neurotypical child and the child with special needs.
 Despite the dynamic shift, when children on the autism spectrum have a sibling in the home, it has been shown to positively affect the special needs child. Neurotypical siblings can provide increased opportunities for social skills in the home and serve as role models to siblings with special needs.
 But, what about the sibling without a disability? Having a brother or a sister with special needs, in a way, can be pretty similar to having a typically developing sibling. There are the expected challenges among siblings – bickering, rivalry, learning to share, but overall, siblings of children with a disability, including autism, have a great capacity to be highly empathetic, compassionate, tolerant, and responsive to the need of others. 
 The Westview School blog interviewed several Westview staffers who all arrived in a special education career after growing up with a sibling with special needs. We asked them to share their experiences, how it shaped them as adults, and advice on the positive impact having a sibling with specials needs has had on their life and career in special education. We hope that by sharing their stories of growing up with a special needs sibling, our families may see the positive influences a sibling with special needs can bring to your child's life.
Caelyn Pho is a Pre-kindergarten teaching assistant at The Westview School. She is the oldest of seven siblings. Caelyn's youngest sister, Meagan (13), was diagnosed on the autism spectrum at four years old. 
 "I was twelve when my sister was born," said Caelyn. "She was not diagnosed early, so I do hold a little bit of guilt, especially since working here. I realized how much more she struggled because of the delay."
 "I come from a very traditional Vietnamese family. Our culture's instinct is to protect," said Caelyn. "It was more challenging during her younger years before our family learned the skills and strategies to be able to properly deal with her tantrums or other challenges."
Lexi Doré is a Kindergarten teaching assistant at The Westview School. She is the only sister among four brothers, three older brothers and one younger. The two brothers closest to Lexi's age are twins, Dalton and Dylan (24), and were born with cerebral palsy. Lexi's younger brother Bouxdie (11), affectionately called Boux, was diagnosed on the autism spectrum at two years old.
"We got a pretty concrete answer that Boux was on the spectrum when he was two. He wasn't talking, and he had a lot of food sensitivity." Lexi remembers the early years of speech therapy and occupational therapy.
Jared Dawkins is the Upper Elementary and Middle School science teacher at The Westview School. He is the middle child of three siblings. His younger brother, Jacob (20), was born with Down Syndrome.  
Jared's experience with special needs started years before his brother was born. "My dad had a cousin, Kevin, with Down Syndrome, so we were very familiar with it already," Jared said. "From a young age, we were taught that Kevin was different, but he was still part of this family, and we should treat him the same as every other family member." Jared learned about his brother's diagnosis before Jacob's birth. "My mom knew before Jacob was born, and I remember being told that he was going to be like Kevin," said Jared.
How has having a sibling with special needs positively impacted your life?
Caelyn: I know that Meagan has influenced me and made me more empathetic and compassionate, and understanding to people who do have challenges. Because of my experience with Meagan, I never hesitate to reach out if I see somebody struggling. I never mind helping. Without judgment, there is just a simple, "Oh, you look like you need help."
Lexi: I have always been an empathetic person with a big heart, but I think that all stems from my special needs siblings. As I've grown older, it has become more of a part of me, and it is something I pride myself on, being empathetic towards others. I know how it feels like to be different, and I try my best to accommodate people in how they want to be treated. Because of my experience, I pass that thinking on to my friends and everyone around me. They are just like everyone else.
Jared: Language is a huge issue for my brother, Jacob. He is twenty now, and his language is far less advanced than anyone he communicates with. Communicating with Jacob was learned through sibling dynamics. It comes second nature to our family. This ability to communicate is one skill that has served me well at Westview. Some of our kids seem unapproachable, but I find it very easy to get through to them and understand them.
How did growing up with a sibling with special needs lead you to a career in special education?
Caelyn: My sister is the absolute reason that I started working with this population. If it were not for her, I would not have found my passion, and I will be forever grateful to her. I feel bad for my friends who are miserable at their jobs, and I get to walk in every day, make a huge impact, and love it. That is all thanks to Meagan.
Lexi: I have always had a heart for people with special needs because of my older brothers, but especially when Boux came into my life. I was already volunteering at camps for children with CP. Knowing Boux and how beautiful his mind is and interacting with his classmates on field trips, I wanted to interact with more kids on the spectrum because they are so different, but they are all beautiful and unique. I just wanted to see life through their eyes, and being more hands-on with them is the best opportunity for that.
Jared: After finishing my undergrad degree in English Literature, I enrolled in Texas Teachers to earn my alternative teacher certification. One of the school counselors recommended special education "to boost my resume." Westview was a perfect fit. I am still learning how to be a teacher, but one thing I didn't have to learn how to do was learn how to approach and interact with our students. It can be challenging to find people who can interact with our kids in a meaningful and genuine way, and I had that experience already.
What advice would you give to siblings of children with special needs that you have learned from your family's experience?
Caelyn: There was always a heightened sense of awareness that my sister was different when we were out in public. I was uncomfortable having an audience during an already stressful moment. As a young girl, this would make me angry when I noticed other people minding our business. As I have matured, I have learned to channel that negative energy into help and support for my family and sister. They are what matters.
Lexi: My best advice is, 'Give yourself the love that you give to others.' It is important to recognize that it is okay to focus on yourself sometimes, and I am learning this more and more as I get older. You don't have to feel guilty for taking care of yourself and your needs. Help your sibling. Help your parents as much as you can but be patient with yourself and treat yourself like you treat your siblings.
Jared: It's essential to treat a special needs sibling as normal as possible. It is the only way I know how to interact with people with special needs, be patient and considerate of their particular needs, and treat them as typical as I can. For example, one thing I'll do is if we tell a joke in a family setting, my brother will ask what was said. His language may hinder him from fully understanding the joke in the same way, but just him receiving that information makes him feel like part of the group. In my experience, it's better for me, and my brother enjoys it more when we include him in the game.
What do you love the most about your siblings?
Caelyn: Spoken language can be challenging for Meagan, but she can sing a whole Frozen song without thinking about it. We are a very musically inclined family, so there is lots of singing and dancing for every family get-together, and Meagan is the star of the show. Meagan will start singing along, and she loves to dance. For this reason, she has become one of the pillars of our family just by being there. She reminds all of us to be in the moment. When we get together, we are all pulled in and connected.
Lexi: Boux wins over everyone that he meets. All my friends have this love for Boux. He is just the best person ever. He's my best friend. Boux is one of the brightest, smartest, coolest people I know. Even though he is not able to convey through words that he loves me, the look on his face, when I walk into a room, I know that I am his best friend too. He teaches all of us that you don't need words to express how much you love. Love goes beyond words.
Jared: His love for my dogs. I know Jacob loves me. He asks about me when I'm gone, and he likes to hang out with me. I do not doubt how much I mean to him, but my dogs mean more. We have a blast when I come over, and he will want to hang out with me, but if I show up without the dogs, his first question is, 'where's Sam?' I am always second to the dogs.
The Westview School's mission is to provide a unique, specialized learning environment offering outstanding educational and social opportunities for children on the autism spectrum. We believe that children with autism spectrum disorder can grow and learn through a nurturing, positive, and happy environment that enhances their self-esteem. This is attainable for our students because of the dedication of our faculty and staff. The Westview team is comprised of seventy members, each of whom was led to our special school for varying reasons with a similar underlying theme — a love and passion for the children on the autism spectrum and a willingness to make a difference in the life of a child. For Caelyn, Lexi and Jared, this experience is a bit more personal, and our school is better because we have them as part of our staff.