The Westview School Blog
Posts Tagged "westview"
October 15, 2020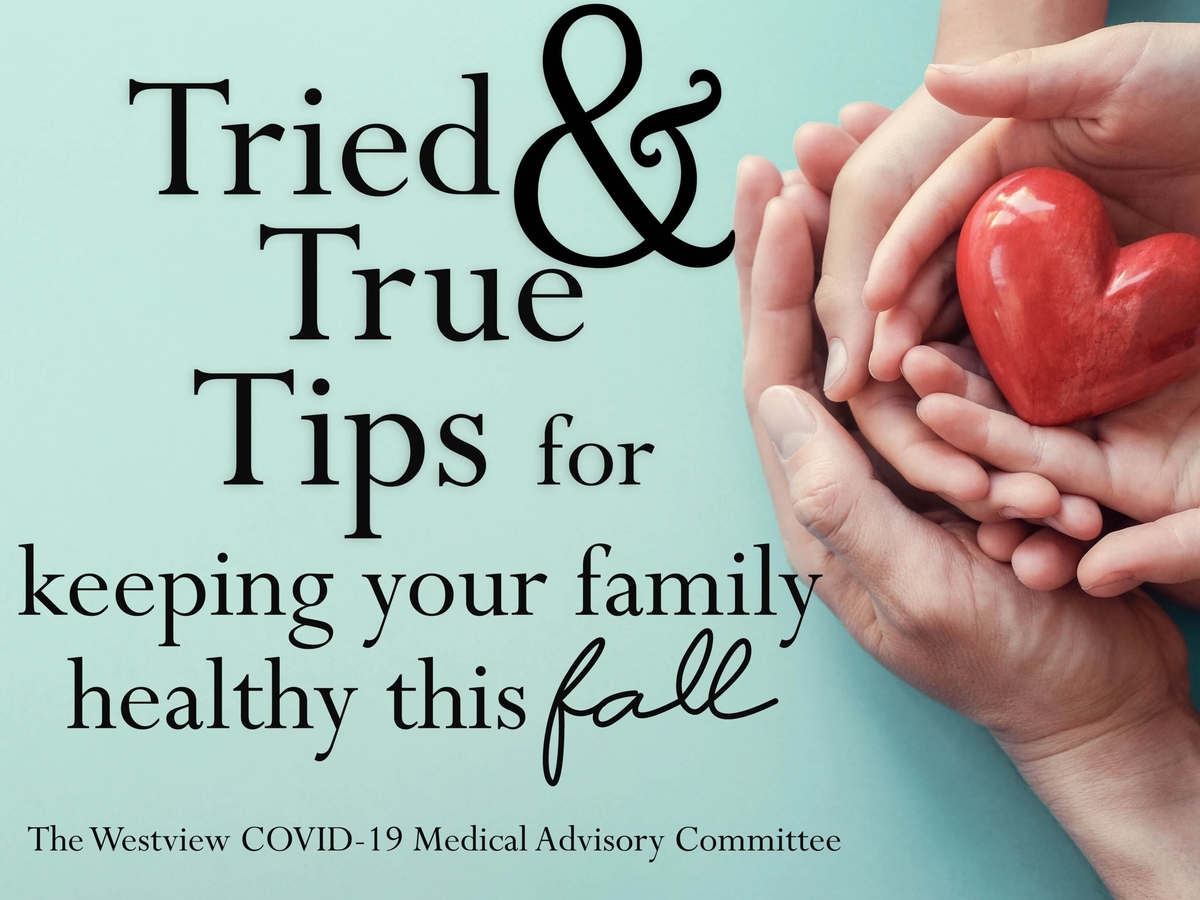 Temperatures are dipping below 90◦F and the smell of pumpkin spice is in the air. Fall has arrived in Houston! As we move into another season of 2020, we have learned to be flexible, anticipate the unexpected, and go with the flow. That said, there are several reasonable ways in which we can consistently support our families' and communities' health.
Tried and true methods to stay healthy:
-Wearing a mask, washing hands, and social distancing, as Covid-19 is still a concern.
-Eating a healthy and varied diet to ensure that we are getting the nutrients that we need and that our kids are getting the nutrients they need too.
-Exercising regularly and encouraging physical fitness for the whole family.
-Getting enough sleep, as well as getting good quality sleep with healthy sleep hygiene.
-Keeping up to date with doctors' appointments (including check-ups), dentist visits, therapy sessions, and flu shots. As we move into flu season and as we are seeing another uptick in Covid-19 cases, our communities must try to keep the hospitals from getting overwhelmed again. This means we all need to keep from getting Covid-19 and the flu (there's a flu shot for that!).
-Staying home if you aren't feeling well, and getting tested for Covid-19 if you are showing any possible symptoms. This epidemiologist tried out the free test at Minute Maid Park- Lot C and was impressed. It was an oral swab, rather than nasal swab, and the PCR results were in my email within 46 hours.
New and novel ways to support good health:
-Supporting your family's mental health through mindfulness. Stress has been a constant factor, especially lately, and mindfulness methods can be helpful in providing relief.
-Maintaining relationships with your social circles, even while maintaining physical distance. As a community, we have really gotten creative in the many ways we can stay in touch. Weekly Zoom get togethers, drive-by birthday parties, sending cards in the mail, and taking classes online together are some fun ways to keep up with loved ones. Consider creating a social bubble with another family whose Covid-19 exposure level is similar to yours; commit to only spending social time with each other and maintain strict social distancing with all others.
-Creating new traditions for holidays and special times. Halloween is a great time to "boo" your friends by dropping off treat baskets on their doors. Thanksgiving could be a multi-state event with families sitting together online to eat dinner at the same time and even playing games like bingo together! Cookie exchanges can easily become online events, and you can even include long-distance friends!
-Reaching out to give and receive support. One of the silver linings of the pandemic has been watching people standing up to support one another. Whether saying a kind word, smiling eyes behind a mask, or showing gratitude for the "helpers," we have shown the strength and resilience of the human spirit.
As we move into the end of the year, look back and see how far we have come in 2020. Our children are thriving and doing well in so many unexpected areas, and our communities continue to stand together through thick and thin. Hang in there and enjoy the cooler temperatures- we'll see you outside!
Wishing you strength and good health,
The Westview COVID-19 Medical Advisory Committee
February 20, 2020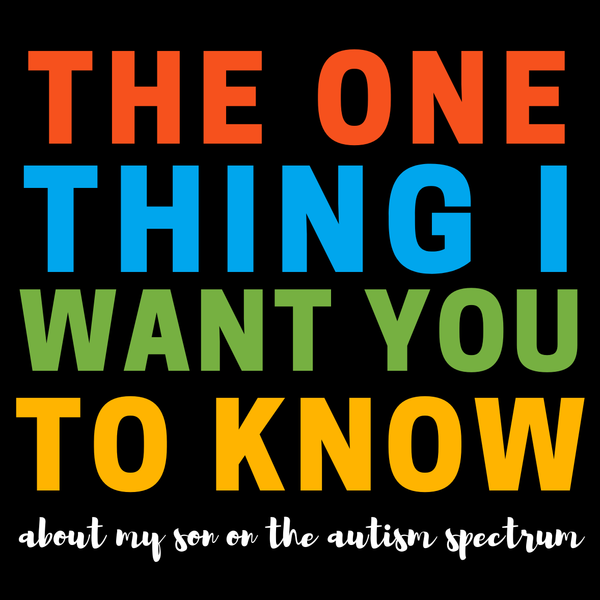 Have you heard the saying, "If you've met one child with autism, you've met one child with autism?" It is called a spectrum for a reason, and under the umbrella of autism spectrum disorder, you will find a vast differentiation of children and behaviors.
My son, Noah, is 12. As a parent, I am way past the point of explaining or apologizing for his differences in behaviors and communication. He is an awesome kid. As his mom, I know exactly how much time and effort and money our family has invested into growing Noah into the best version of himself. From therapy to special schooling, medications and doctor's visits, we have ten-plus years invested. For all his weaknesses, his strengths are many, and I can honestly say that I know how hard we have worked to hone those strengths. It is still a work in progress and probably will forever be.
This started as an article about 10 things I want you to know about my child with ASD. But, really there's only one thing I want you to know: WE NEED GRACE.
Grace has many definitions, but let's go with this one: "The disposition to or an act or instance of kindness, courtesy or clemency." There's a lot of talk about Autism Awareness. We even have a month for it in April as a reminder. But, what do you do in the face of someone who is different, and how will you teach your children to react to those differences?
There was time somewhere between his diagnosis at 24 months and now that I was more sensitive and less accepting of what I perceived as a deficit in my child. Was I doing enough? Was I doing the right things? Is everyone looking at us?
One moment always comes to mind. Noah was about 6 years old. He has always been high energy with difficulties in body regulation. Translation: he's super hyper out in public. It's funny because he's pretty logical, and he has a good moral compass of right and wrong. He knows how he should act in particular situations but somewhere between thinking and doing, things tend to go awry. We happened to be heading into his favorite store - Target. Before getting out of the car, I gave him a little pep talk. I call it front-loading, where I prepare him for what is about to happen next.
Me: "OK, buddy. Here's the thing. We are about to go into Target, and I want you to have a super quiet body."
Noah, with complete confidence in himself: "Got it, Mom."
But, as much as I tried to front-load, and as much as Noah thought he had this, walking into Target, the excitement of a favorite place couldn't keep his little body calm. He was immediately jumpy and chatty earning stares from the other shoppers. So, there I stood on the toy aisle, giving up the fight of keeping him quiet. I was letting him live his best Target life by bouncing up and down the aisles.
Another mom walked up to me. She said, gesturing toward Noah "is he… (awkward pause and whisper) autistic?"
I nodded.
She continued. "Have you tried therapy? Or diet? I have this friend…"
You could ask any autistic mom to fill in the blanks here. We've all been in this sort of a situation. And, man… it totally stings.
"Did you vaccinate?"
"Have you tried ABA?"
"Is he gluten free/casein free?"
"Have you seen Parenthood?"
She must have caught me at a weak moment because all I could think as I started to tear up was Noah was eight, and we had been in therapy and special schooling for six years. And, I was working so hard for him. He was working so hard. And, it just took one misplaced comment from a well-meaning fellow mom to bring up all the insecurities that in my heart said, "Are we doing enough? And is it all my fault?"
I always wonder how that particular situation could have gone differently, and why it has always stuck with me. Maybe just a "Good job, Mama!" would have sufficed. Maybe Noah isn't something that needs fixing. As a parent, we are always trying to challenge and improve our children, neurotypical or not. That's why it's called "raising" kids. We are all just working on different things. And, I am so proud of my child, and he's got so much to offer to our family and this world. He's smart and kind. He loves his sister and pizza. He's the fastest drawer I know, and his favorite color is red because it comes first… duh. He can pick out all the countries of the world based on size and shape, and he is an avid collector of graphic novels. And, one of the things, I am trying to teach him is showing love and acceptance to the people around him. Need something to work on with your kiddo too? It's a good one. Take time to say, "Thank you." Take an interest in the people around you even the ones who are different. Practice simple acts of kindness. Raising tiny humans is hard - autism or not.
And, I think the best we can do is show a little love and give a little grace and teach our children to do the same.