Staying Safe at COVID-19 Level 1 in Houston
September 02, 2021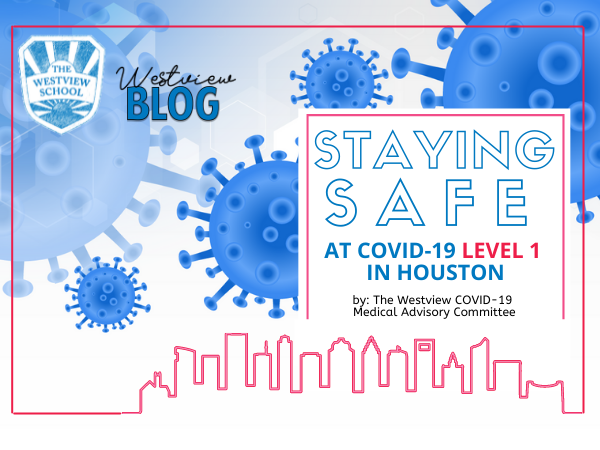 It seems like déjà vu that we are starting this school year with masks and health screenings again, but we've had some noteworthy scientific progress compared to this time last year. Hopefully these changes will make life a little more manageable and get us closer to being done with COVID!
There are so many things we were doing last year that we no longer need to do, since we know more about COVID-19. We don't need to: wipe down our groceries with Clorox wipes, avoid takeout (no more missing out on Houston's amazing restaurants!), or hide in our houses 24/7 (although sometimes it's nice to catch up on Netflix!).
We just need to:
- Get vaccinated against COVID-19 when you're eligible. When your children are eligible for the vaccine, get them vaccinated as well- currently only children 12 years and older can be vaccinated. Also, plan to get a booster shot when you're eligible (currently, approximately 8 months after your 2nd dose of Pfizer or Moderna). If you have questions about the vaccines, check out our previous blog post on the topic.
- Maintain physical distance from others. While we have high rates of COVID-19 in Houston, try to stay away from others, even outdoors, and avoid large indoor gatherings.
- Wash your hands often. Soap and water is best, but hand sanitizer is a great option too.
- Wear a mask, especially in indoor space and even if you're already vaccinated.
- Keep monitoring your personal and your family's health. Watch for symptoms of COVID-19, even if you're vaccinated. The most common symptoms of the delta variant COVID-19 are runny nose, sore throat, headache, and fever, which are also allergy symptoms in Houston! Take a COVID-19 test if you are experiencing any signs of illness.
- Maintain your hobbies and your support system. Now, more than ever, we need to keep up our spirits and keep an eye on our mental health.
As a community, we've banded together time and time again to face numerous challenges for our children. We know that this is one more trial that the Westview Wildcats are ready to meet. We are strong, flexible, and caring, and we can do this! Hopefully, we can help all of Houston get COVID-19 under control too, so we can truly put this pandemic time behind us for good.