Memories of Our Mother: A History of The Westview School
October 05, 2021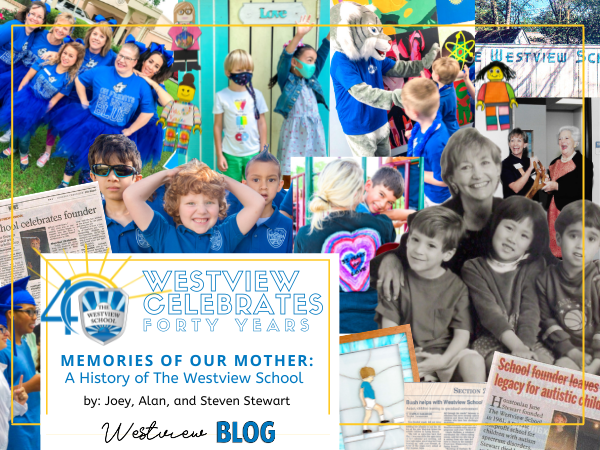 To commemorate the fortieth anniversary of The Westview School, the sons of founder, Jane Stewart shared a personal reflection of their early memories of The Westview School and what the legacy of 40 years of Westview means to their family.
A little over forty years ago our mother, Jane Stewart, brought us (Joey, Alan and Steven) all together in the family room and told us she was starting a school for children with disabilities. She had been volunteering at The Briarwood School for a few years and a group of parents came to her and asked if she would consider teaching their children privately. These parents recognized our mother's compassion and love for all children.
Overjoyed that Jane could now offer personal attention and schooling to a population in need of facilities, she turned our "game room" into a school during the day. We have many wonderful memories of coming home from school and watching our mother teaching and caring for her students. Often, we would join our mother rather than playing video games. That time was always very special to us. The parents were ecstatic, and the children made remarkable progress during the time they were with our mother in our home. In fact, one of our mother's first students, whose doctor told her parents she couldn't be helped, years later not only graduated from high school but was also prom queen. Our mother knew that amazing things were in all of us.
After a long discussion, our mother and father, Joel Stewart, decided to purchase a small house on Westview Drive in the Spring Branch area of Houston to expand the school, its facilities, and number of students. The Westview School was born as was the beginning of one of the most successful and ground-breaking schools for children on the autism spectrum in the country. This was a defining moment for our mother, one which filled our family with pride and love. The growth of the school meant so much to her.
As The Westview School evolved, so did our involvement as a family. Alongside our mother was our father, who not only gave his generous support to the school but also brought with him his financial and regulatory acumen. Additionally, throughout high school, we volunteered our summers working various jobs doing maintenance, painting, and building on the school grounds. The most rewarding was when we volunteered as teachers' aids, running with the children on the playground, helping with art projects, singing Heads, Shoulders, Knees, and Toes, and even happily laughing and getting soaked with the students on the slip and slide. These are the types of experiences that are so memorable and special to us.
The expansion of the school to its current location on Kersten Drive was one of the most incredible experiences of our lives. We were honored to have the late Barbara Bush preside over the opening ceremony. She graciously spent time with the students and recognized the importance of the school. This was an experience we will never forget. Most importantly, there would be a much larger school that could accommodate the growing population and could offer even more benefits to the students including a robust multidisciplinary team. Our mother made sure there was a small student-teacher ratio so that the current students received the same personal attention as her first students received in our game room.
The school expanded once again and added another building offering even more opportunities to students. Throughout the forty years, there have been many talented and brilliant individuals who have worked at the school and served on the Board to turn the school into what it is today. We are grateful that the school and staff have committed to the mission of our mom in providing a nurturing and positive environment. The teachers and the entire staff are dedicated and caring individuals. We continue to be impressed by the incredible work and enjoy watching the school and the students thrive.
Throughout our lives, we always felt that our mother was a miracle worker, and it really showed when she worked with children. Her caring, gentle and intelligent approach, based in love for each and every student, showed through at all times.
---
Joey Stewart is a feature film producer and restaurateur that lives in Dallas with his wife Laura, an interior designer.
Alan Stewart is happy to coordinate marketing and VIP programs for music, wine and NFL clients including Duran Duran, Matt & Kim, Westport Rivers Winery, and the Indianapolis Colts. He lives on a farm on the coast of Maine with his wife Lisa who is in the legal field.
Steve Stewart is a physician and Chief Medical Officer of a hospital in New Mexico and lives in Albuquerque with his wife Amy, a lawyer, and their two sons, Wells and Flynn.