The Westview School Blog
Posts Tagged "learning differences"
October 05, 2021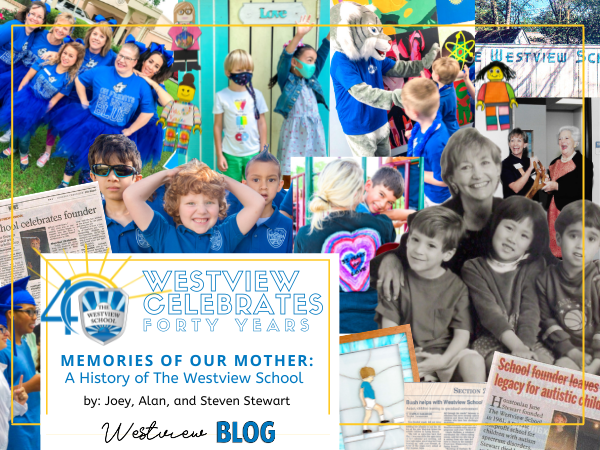 To commemorate the fortieth anniversary of The Westview School, the sons of founder, Jane Stewart shared a personal reflection of their early memories of The Westview School and what the legacy of 40 years of Westview means to their family.
A little over forty years ago our mother, Jane Stewart, brought us (Joey, Alan and Steven) all together in the family room and told us she was starting a school for children with disabilities. She had been volunteering at The Briarwood School for a few years and a group of parents came to her and asked if she would consider teaching their children privately. These parents recognized our mother's compassion and love for all children.
Overjoyed that Jane could now offer personal attention and schooling to a population in need of facilities, she turned our "game room" into a school during the day. We have many wonderful memories of coming home from school and watching our mother teaching and caring for her students. Often, we would join our mother rather than playing video games. That time was always very special to us. The parents were ecstatic, and the children made remarkable progress during the time they were with our mother in our home. In fact, one of our mother's first students, whose doctor told her parents she couldn't be helped, years later not only graduated from high school but was also prom queen. Our mother knew that amazing things were in all of us.
After a long discussion, our mother and father, Joel Stewart, decided to purchase a small house on Westview Drive in the Spring Branch area of Houston to expand the school, its facilities, and number of students. The Westview School was born as was the beginning of one of the most successful and ground-breaking schools for children on the autism spectrum in the country. This was a defining moment for our mother, one which filled our family with pride and love. The growth of the school meant so much to her.
As The Westview School evolved, so did our involvement as a family. Alongside our mother was our father, who not only gave his generous support to the school but also brought with him his financial and regulatory acumen. Additionally, throughout high school, we volunteered our summers working various jobs doing maintenance, painting, and building on the school grounds. The most rewarding was when we volunteered as teachers' aids, running with the children on the playground, helping with art projects, singing Heads, Shoulders, Knees, and Toes, and even happily laughing and getting soaked with the students on the slip and slide. These are the types of experiences that are so memorable and special to us.
The expansion of the school to its current location on Kersten Drive was one of the most incredible experiences of our lives. We were honored to have the late Barbara Bush preside over the opening ceremony. She graciously spent time with the students and recognized the importance of the school. This was an experience we will never forget. Most importantly, there would be a much larger school that could accommodate the growing population and could offer even more benefits to the students including a robust multidisciplinary team. Our mother made sure there was a small student-teacher ratio so that the current students received the same personal attention as her first students received in our game room.
The school expanded once again and added another building offering even more opportunities to students. Throughout the forty years, there have been many talented and brilliant individuals who have worked at the school and served on the Board to turn the school into what it is today. We are grateful that the school and staff have committed to the mission of our mom in providing a nurturing and positive environment. The teachers and the entire staff are dedicated and caring individuals. We continue to be impressed by the incredible work and enjoy watching the school and the students thrive.
Throughout our lives, we always felt that our mother was a miracle worker, and it really showed when she worked with children. Her caring, gentle and intelligent approach, based in love for each and every student, showed through at all times.
---
Joey Stewart is a feature film producer and restaurateur that lives in Dallas with his wife Laura, an interior designer.
Alan Stewart is happy to coordinate marketing and VIP programs for music, wine and NFL clients including Duran Duran, Matt & Kim, Westport Rivers Winery, and the Indianapolis Colts. He lives on a farm on the coast of Maine with his wife Lisa who is in the legal field.
Steve Stewart is a physician and Chief Medical Officer of a hospital in New Mexico and lives in Albuquerque with his wife Amy, a lawyer, and their two sons, Wells and Flynn.
December 14, 2020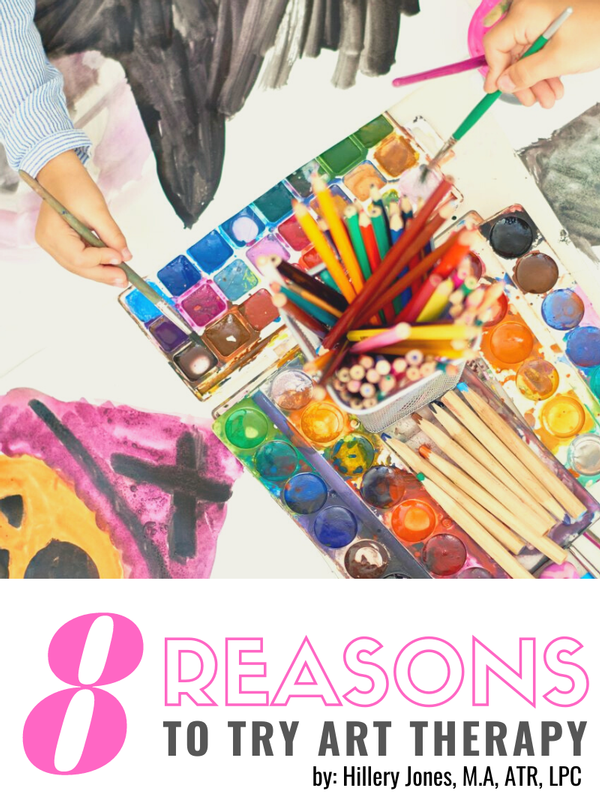 Why Art Therapy for Autism Spectrum Disorder?
Art Therapy offers the opportunity to learn and practice many social and emotional awareness skills that are a struggle for children on the Autism Spectrum. Self-expression and maintaining and developing relationships are explored and enhanced through both the therapeutic relationship and art therapy. This is because the relationship established between a client and the therapist can promote healthy and safe attachments. The art-making component builds on that relationship and offers an alternative form of communication, sensory integration, self-expression, and promotes cognitive-emotional development.
8 Reasons to Try Art Therapy for Your Child with Autism Spectrum Disorder:
1. Imagination/Abstract Thinking
Art therapy can help your child display age-appropriate imagination and abstract thinking skills.
2. Sensory Regulation & Integration
Art therapy can improve your child's ability to regulate his or her body and integrate sensory experiences.
3. Emotions/self-expression
Children learn to use art to externalize and process thoughts and feelings, improving communication and connection between children and their caregivers.
4. Developmental Growth
Art therapy helps children hit important milestones like age-appropriate drawing ability, fine motor skills, overall artistic development, and can be used to improve other relevant deficit areas that can be addressed using art.
5. Visual-Spatial Skills
Art therapy improves the child's ability to negotiate and render/model in both two and three-dimensional spaces and the ability to rotate objects mentally.
6. Recreation/Leisure Skills
Art therapy helps children on the spectrum develop productive, enjoyable leisure activities and generalize them to the home and other natural environments.
7. Developing Self-identity/Empowerment
Using art-making can help children explore, learn, and discuss the different components of an Autism Spectrum Disorder diagnosis that empowers them to build a positive self-identity.
8. Reduce Anxiety/Stress
Art therapy also promotes learning coping skills through the creative process, including mindfulness, deep breathing, and guided imagery to improve emotional self-regulation.
How to Tell if Art Therapy is a Good Fit for Your Child:
• Does your child struggle with self-expression, relationship building, emotional regulation, abstract thinking, sensory processing deficits, or communication?
• Is your child interested in creative processes?
• As a parent, are you willing to actively participate in your child's therapeutic treatment while respecting therapeutic boundaries?
If you answered yes to the questions above, your child might benefit from art therapy.
Individual Art Therapy sessions are tailored to your child's needs. The child will lead the therapist to what materials naturally pique their interest. From there, the art therapist will create a treatment plan that includes goals and objectives. You, as the parents or caregivers, will be included as active participants in the therapeutic process.
Group Art Therapy sessions are based on a common goal. All group members will be screened to ensure they are an appropriate fit, and members will be placed according to similar developmental and emotional needs. There is a significant social and communication component to every group that children on the spectrum can benefit from. Because many individuals diagnosed with ASD are visual thinkers, artwork can facilitate forming connections with peers because it offers a concrete way to see another's perspective.
To learn more about Art Therapy at The Stewart Center, visit our website and connect with Hillery Jones.
--
Hillery Jones is a Licensed Professional Counselor and Art Therapist. Her passion is in using the creative process to help children, adolescents, and adults gain a deeper sense of self-awareness. Her approach is client-led, practical, holistic, and adaptable in everyday life. She integrates a kinesthetic learning component of connecting mind and body to her practice. She uses traditional talk therapy and art therapy to meet the unique needs of each individual. Her ultimate goal is to provide clients with the tools needed to be the best version of themselves.
​Hillery received her B.A. in Art Education from Lamar University and her M.A. Art Therapy Counseling from Southern Illinois University, Edwardsville. She has worked in school, hospital, residential, and out-patient settings.
September 18, 2019
Do you know people in your home or classroom who are always losing their belongings, forgetting important items, getting lost from the kitchen to the bedroom, running chronically late, or just generally seems like a "mess?" Weak executive functioning could be to blame!
Executive functioning is a general term that refers to our mind's mental manager, or the cognitive processes that regulate our thinking and behavior. While there are many models of executive functioning, most include the individual's ability to generate ideas, initiate or begin a task, stick to and finish a task, flexibly problem-solve, shift from one idea or topic to another, inhibit our impulses, ignore distractions, regulate attention, regulate our behavioral and emotional responses, use feedback to guide future behavior, select relevant goals, organize materials, hold information in mind until needed, and more. I like to think of our executive functions as air-traffic control for our brain or as the conductor of the mind's orchestra.
When all is well, cognitive processes flow smoothly and behavior fits the situation as expected. When there are problems… well, just imagine the airport with poor air-traffic control! Executive functioning is needed for all aspects of life. Socially, we need executive functioning to help us regulate our behavior and emotions when we are upset. After all, throwing the board game when we are losing is frowned upon… particularly in adolescence or adulthood! We spend a great portion of time controlling our impulses to speak out in school or a meeting, to refrain from spending too much money, or even from overeating. Executive functions help us to arrive on-time, prepared, and with a plan for how to behave. They are also critically important for academic success. Not only are executive functions needed for decoding written text, reading comprehension, solving math word-problems, and long division, they are also needed to be an organized, efficient student who remembers homework and can plan for projects and tests. These days, if you are not in the right place, with the right things, at the right time, it is difficult to be a good student, no matter how bright you are! In fact, being in the right place, with the right things, at the right time is the very basis of holding a job.
When there is executive disfunctioning, life may feel chaotic or unproductive. The child or adult may experience social, academic, or employment difficulties and/or problems in the home. The good news is that executive functions are thought to be able to be developed or strengthened. These skills first begin developing in infancy as babies are learning to wait to have their needs met. They really come 'on board' in the brain around age two as children learn they are active agents in their own world. Beyond that age, executive functions are thought to keep developing into young adulthood. Just as they can be strengthened, executive functions can be weakened or damaged. Neurological insults from accidents, injuries, or other sources can impact executive functioning temporarily or long-term.
Executive disfunction is often part of the presentation of neurodevelopmental disorders such as Attention-Deficit/Hyperactivity Disorder, Autism Spectrum Disorder, and Specific Learning Disability. Although executive functioning is thought to be the most impaired in the aforementioned conditions, it is also implicated in conditions such as anxiety, depression, and even medical conditions such as low blood sugar. Problems with executive functioning are often what bring families to seek help from psychologists, psychiatrists, or doctors.
Understanding the importance of executive functioning is the first step to facilitating its development. The 'Practice Makes Perfect' principle applies here. If a child has no experience planning for their day or organizing their materials, it is unlikely that he or she will simply arrive at this skill in high school.
From the time they are small, children should be encouraged to help with planning and organizing. A toddler may not be able to make a sandwich, but they can help pack a lunch. Likewise, a young child who cannot do their own laundry can sort laundry or help pick out clean clothes for tomorrow.
Children can also help with the planning and preparation for parties, event, and projects. Learning how to react when what we want is not available, what to do when we forget something important, and how to persist with the temptation of distractions are all valuable skills that adults need to afford children. Children can have fun while they help adults with household tasks and learn these skills. They can also work on these skills in their play.
Childhood games have been shown to improve the executive skills of preschool children. Games such as Simon Says, Red Light Green Light, and Mother May I all help children to practice attending, inhibiting impulses, problem-solving, regulating behavior, and regulating emotions. For older children, yard games such as Freeze Tag and Capture the Flag can be helpful. Board games are also great ways to develop flexibility, inhibition, problem-solving, and shifting. Some favorites for young children are Candy Land and Chutes and Ladders. These games are great for teaching flexible thinking by changing the rules. Some fun examples are to play the board backwards or try to be the last one to cross the finish line! For older children, strategy games such as chess, Chinese checkers, or Risk may be helpful. Children and adults also tend to enjoy German-style or Euro board games. These games tend to minimize conflict and luck and emphasize problem-solving strategy. Some popular examples are: Ticket to Ride, Settlers of Catan, Small World, and Dominion. These games require planning, problem-solving, shifting strategies, and many other executive functions to master despite relatively easy game play and moderate playing times.
In addition to practicing executive functioning skills throughout life, accommodations and supports for weak executive functioning are often helpful. For example, making lists, using sticky-note reminders, using alarms, and having organizational systems in place can help support executive functioning skills. There are several books available with excellent strategies for support. Some of my favorites are: Smart, but Scattered: The Revolutionary "Executive Skills" Approach to Helping Kids Reach Their Potential by Peg Dawson and Richard Guare; The Explosive Child: A New Approach for Understanding and Parenting Easily Frustrated, Chronically Inflexible Children by Ross Greene, PhD; and The Asperkid's Launch Pad: Home Design to Empower Everyday Superheroes by Jennifer Cook O'Toole.
Executive functioning skills take effort and experience to develop over time. For families requiring guidance to facilitate growth in their loved one's executive functioning, many services and providers exist. The Stewart Center at The Westview School offers individual therapy to facilitate executive functioning in adolescents and adults, group therapy for fun skill-building in children, as well as parent coaching and case management to assist families in promoting these skills in their daily lives at home. For more information, contact 713-973-1842 or info@stewartcenterhouston.org.