8 Reasons to Try Art Therapy
December 14, 2020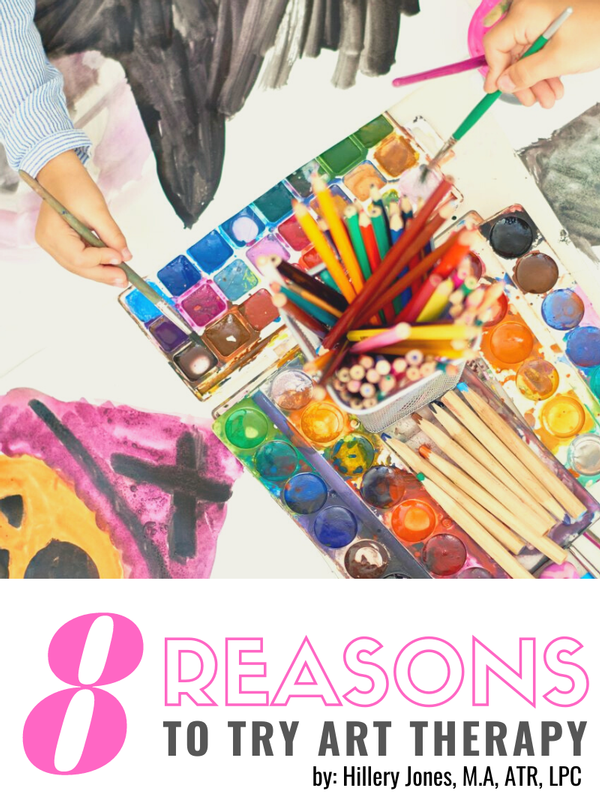 Why Art Therapy for Autism Spectrum Disorder?
Art Therapy offers the opportunity to learn and practice many social and emotional awareness skills that are a struggle for children on the Autism Spectrum. Self-expression and maintaining and developing relationships are explored and enhanced through both the therapeutic relationship and art therapy. This is because the relationship established between a client and the therapist can promote healthy and safe attachments. The art-making component builds on that relationship and offers an alternative form of communication, sensory integration, self-expression, and promotes cognitive-emotional development.
8 Reasons to Try Art Therapy for Your Child with Autism Spectrum Disorder:
1. Imagination/Abstract Thinking
Art therapy can help your child display age-appropriate imagination and abstract thinking skills.
2. Sensory Regulation & Integration
Art therapy can improve your child's ability to regulate his or her body and integrate sensory experiences.
3. Emotions/self-expression
Children learn to use art to externalize and process thoughts and feelings, improving communication and connection between children and their caregivers.
4. Developmental Growth
Art therapy helps children hit important milestones like age-appropriate drawing ability, fine motor skills, overall artistic development, and can be used to improve other relevant deficit areas that can be addressed using art.
5. Visual-Spatial Skills
Art therapy improves the child's ability to negotiate and render/model in both two and three-dimensional spaces and the ability to rotate objects mentally.
6. Recreation/Leisure Skills
Art therapy helps children on the spectrum develop productive, enjoyable leisure activities and generalize them to the home and other natural environments.
7. Developing Self-identity/Empowerment
Using art-making can help children explore, learn, and discuss the different components of an Autism Spectrum Disorder diagnosis that empowers them to build a positive self-identity.
8. Reduce Anxiety/Stress
Art therapy also promotes learning coping skills through the creative process, including mindfulness, deep breathing, and guided imagery to improve emotional self-regulation.
How to Tell if Art Therapy is a Good Fit for Your Child:
• Does your child struggle with self-expression, relationship building, emotional regulation, abstract thinking, sensory processing deficits, or communication?
• Is your child interested in creative processes?
• As a parent, are you willing to actively participate in your child's therapeutic treatment while respecting therapeutic boundaries?
If you answered yes to the questions above, your child might benefit from art therapy.
Individual Art Therapy sessions are tailored to your child's needs. The child will lead the therapist to what materials naturally pique their interest. From there, the art therapist will create a treatment plan that includes goals and objectives. You, as the parents or caregivers, will be included as active participants in the therapeutic process.
Group Art Therapy sessions are based on a common goal. All group members will be screened to ensure they are an appropriate fit, and members will be placed according to similar developmental and emotional needs. There is a significant social and communication component to every group that children on the spectrum can benefit from. Because many individuals diagnosed with ASD are visual thinkers, artwork can facilitate forming connections with peers because it offers a concrete way to see another's perspective.
To learn more about Art Therapy at The Stewart Center, visit our website and connect with Hillery Jones.
--
Hillery Jones is a Licensed Professional Counselor and Art Therapist. Her passion is in using the creative process to help children, adolescents, and adults gain a deeper sense of self-awareness. Her approach is client-led, practical, holistic, and adaptable in everyday life. She integrates a kinesthetic learning component of connecting mind and body to her practice. She uses traditional talk therapy and art therapy to meet the unique needs of each individual. Her ultimate goal is to provide clients with the tools needed to be the best version of themselves.
​Hillery received her B.A. in Art Education from Lamar University and her M.A. Art Therapy Counseling from Southern Illinois University, Edwardsville. She has worked in school, hospital, residential, and out-patient settings.