Reasons To Love Trains: A Mother's Journey with Autism
April 07, 2021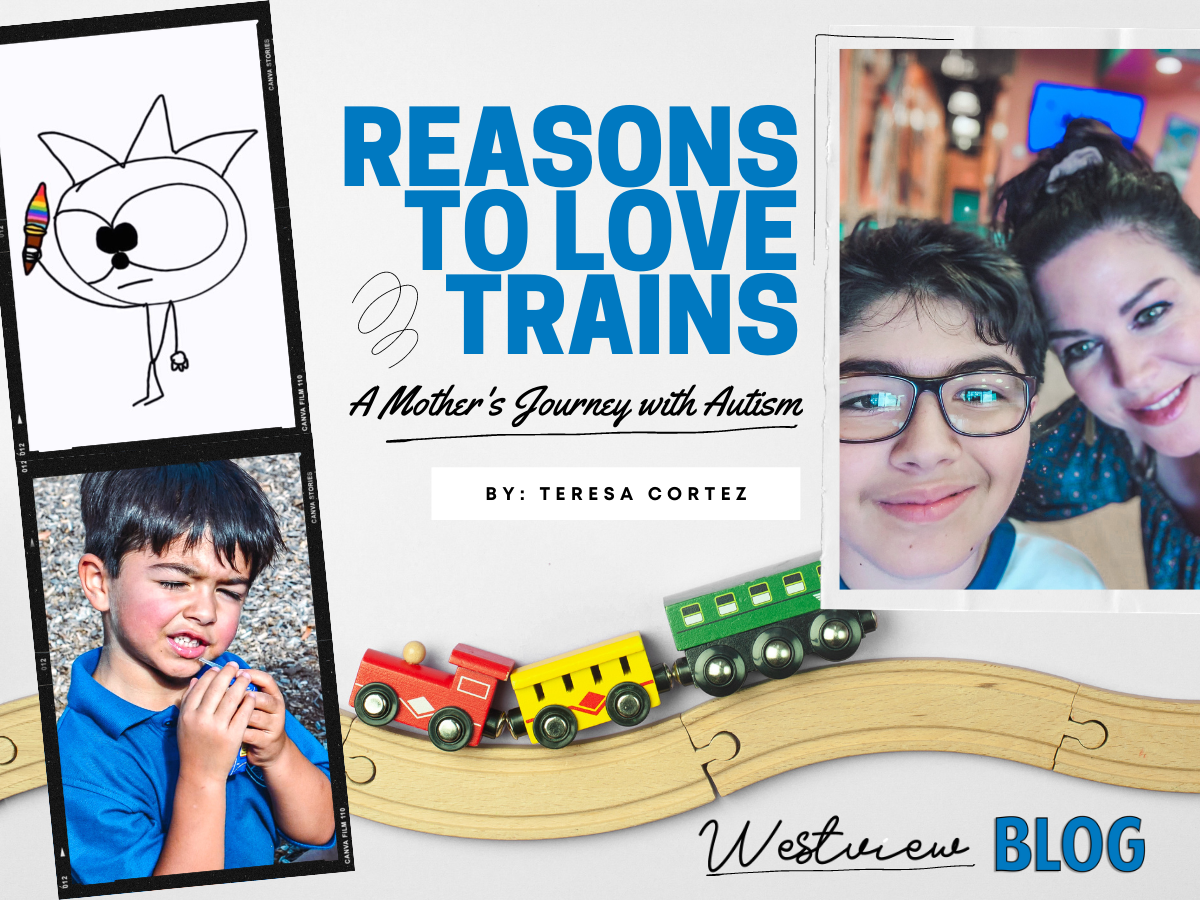 The behavioral therapist who assessed Julian in October 2010 spent two hours alone with him, took into account his developmental delays and inappropriate behaviors: the pushing, spitting, lack of engagement, and severe language delay; the crashing, breaking, food sensitivities, and meltdowns. Once I joined them, the therapist and I talked as Julian played with a vibrating train. He held the train by a thin string for twenty minutes, lifted the train up high, near the left side of his face, and moved only his eyes, shifted them hard left so he could stare at the bright red blur in his periphery. Perhaps he loved the leftward pulling sensation behind his eyes, the string vibrating in his small hand. Maybe it was the change in perspective as he held the train so close he was able to blur the separation between him and the shiny inanimate object.
Near the end of our session, the therapist smoothed the paper on her desk with one hand, looked at me, and said, "I believe Julian is moderately autistic."
Her word choice struck me immediately. She hadn't said "mildly" or "severely." He wasn't a little or a lot autistic. He was, according to Webster's College Dictionary, "within reasonable limits…of average or medium quality." Was there a reasonable level of disability?
"You do?" I asked because I'd hoped for anything but that, and in my denial, had become certain Julian only suffered from apraxia of speech. Now I needed a minute to recover enough to mask my devastation.
"I know this can't be easy for you," she said, and I lost my resolve not to cry.
At that moment, the Julian I knew – three years old, flirty, quirky, affectionate, in love with movies, cows, and alphabet letters – was gone. In his place stood a little boy from another planet, a familiar stranger. I'd just handed my former son over to a medical statistic, another 1 in 42 boys.
Almost overnight, a whole new existence formed, a parallel world that looked like earth but wasn't. It was full of specialists with names like Toshio, Toodie, and Tempa, like Lion, Scarecrow, and Tin Man. It was a sudden ambush of therapies I'd never heard of, long drives, too many forms to fill out, and appointments every week.
I didn't sleep much. I'd wake in a panic at 2 a.m. and tiptoe into his room to watch my newly foreign child sleep. Grief sometimes took an unusual turn. Though I didn't notice right away, my husband and I had stopped making videos of Julian and his sister, Victoria. We were still learning what autism was, but we perceived it as a loss, as the erasure of a person we thought we knew well. In essence, this meant one of our children had died, and it felt wrong to record the empty space.
But Julian was very much present; it was his parents who were lost. Still, there was an amorphous loss. Julian wasn't blind or missing a limb. There was simply no way to truly name or measure what was lost, to label precisely what we were learning to accept. No one could tell me where we'd be in twenty years, what to expect.
If I asked for his name, he told me his age. If I asked his age, he told me his name or launched into a slurred rendition of the alphabet song. At almost four years old, his longest self-composed sentences were two words; he knew about six of these short sentences. His enunciation was awful; therefore, I was one of only a few people who could understand him. He could ask for juice or a toy, but he couldn't tell me when he was sick, sad, tired, or hurt. He couldn't tell me he loved me. He couldn't answer most questions. He didn't understand words like What, When, Where, How, and especially, Why.
I read countless articles and books about autism, searching for any window into my child, for a cure if one existed. Where were we going with so many hours of therapy, and when would we get there? I asked doctors, teachers, and therapists ten million questions, and still, no one could explain what was lost and whether we'd find it again.
Autism was a social communication disorder with repetitive behaviors, but beyond this general description was a wait-and-see prognosis for every unique child. There was no way to predict what his future would look like. We would have to learn as we went along, accept the trial and error of various therapies, diets, and doctors. His brain was structured differently, not erased. So not only would we need to teach Julian differently, we had to relearn him.
Although he couldn't use a spoon, hold a pencil, drink from a cup, sit still, or play with other children, I saw a spark, a hint of a brighter light that was, for now, obscured.
Would he ever read? Write? Sit still? Potty-train? Would he be able to work? Was independence the ultimate goal?
Julian had many challenges, but language was especially difficult. Even though his speech became clearer and he began to memorize entire movie scripts, he still struggled to compose his own sentences.
Then he began using movie lines to communicate with us effectively, but still, how could he achieve independence with "movie talk"?
In 2016, I heard about Owen Suskind, a young man with autism who used Disney animated movies to express complex emotions like love and loss. In both the book and documentary film, Life, Animated: A Story of Sidekicks, Heroes, and Autism, his father, Ron Suskind, explained his support of Owen's Disney obsession by describing why he communicated with his son using puppets and silly character voices, encouraged Owen's drawing of favorite characters, taught coping skills by applying lessons learned from Disney films to everyday life. He summed up his reasoning with a single sentence, "Whatever works to get to Owen."
Whatever works to connect…
After learning about Owen, I threw everything I had at Julian's obsession with movies. I bought the DVDs as soon as they were released, and the small character figurines. I allowed extra time on his iPad, let him watch movies in the car. Soon not only did he tolerate holding a pencil, but he also showed an interest in drawing. So I gave him colorful pencils, crayons, reams and reams of paper. Soon it was evident that he loved drawing, and I noticed that no matter how crudely drawn his characters were, their facial expressions were clearly nuanced. By watching the same movies over and over, he'd taught himself to draw feelings, and all he couldn't capture in words.
He drew family members and school friends and always included himself as a central character, a protagonist in every adventure. He clearly expressed feelings, motivations, and even abstract thought in pictures. He drew complicated family dynamics, like the day he was born, and inadvertently "replaced" the former "baby of the family," how that must have made his older brother feel sad. In this instance, he drew the reactions of each family member to fit their individual personalities, which included his oldest sister rolling her eyes at all the birth order drama. This told me he understood complex issues far better than he could convey with words alone. He had empathy, imagination and paid close attention to how people felt and interacted.
Julian once drew a picture of himself as an adult sitting before a computer, working in animation. That was the future he imagined for himself. As The Westview School taught him to read and spell, Julian began drawing "thought bubbles" and writing dialogue. His hand muscles grew stronger, and he developed greater endurance. The kid whose hands were once too weak to hold a spoon or pencil, the kid who hated reading and writing, was now writing books. He plagiarized in the beginning as he copied the drawing style and stories of his favorite author, Mo Willems. Then he inserted different characters, changed up the stories, and made them his own.
He sometimes drew fifty or more pictures in a single day, stacks of pages all over our house. We encouraged him every step of the way, and as much as I hate clutter, I knew we were on to something. So I saved every picture, even the half-drawn pictures, and what might be considered "failed" efforts. My instincts told me we had to attach meaning and value to these drawings, so Julian saw that we respected him and his "work." His skill and confidence continued to grow.
Now at age fourteen, he's making stop-action films using Videoshop and Garage Band to create the accompanying music. He's using more sophisticated animation techniques, making his own music, telling his own stories with both colorful imagery and words. And that initial spark I saw in his eyes? It was creativity and a wicked sense of humor. The kid knows how to entertain.
Throughout these many years of learning to tell his own stories with pictures and words, one thing has never changed: Julian wants us to notice. He wants to show us his creations. He wants to connect. I think that's what we're all trying to do in everything we do, connect.
Will he manage to turn these skills into a career? Maybe. But more importantly, he's proud of himself. He feels a sense of accomplishment. He has confidence and uses art to connect with others. Without his identity as a creative artist, he wouldn't have as much faith in himself to stand on his own.
A few weeks ago, Julian knocked on my office door, "Can we talk?" He didn't need anything; he just wanted to sit on the floor in my office and chat. This was new, his wanting to talk about nothing in particular.
I went with it, and suddenly he was asking me what kinds of things I worried about, what life was like for me when I was his age, what kind of kid I was, and was I happy as a grownup? It was evening now, and surely his ADHD medicine had worn off, yet he was so calm, so focused on my responses. He kept asking, and I kept answering, following his lead, our conversation stretching over five, ten, fifteen minutes, uninterrupted. We stayed on track. His thoughts were organized, one after the other, moving along a trajectory that was his alone.
It wasn't scripted. I didn't know where this came from, my son, who's now taller than me wanting to know his mother better, to venture away from his comfort zone of animation to have a real conversation, to connect in a novel way. I felt like I was tiptoeing into his room again at 2 a.m., only now it was to watch him wake up, all on his own. I didn't want my excitement to get in the way. Because at that moment I was the subject of interest, he held up close, seeking a new perspective, blurring the separation between us.
--
Teresa Cortez has been a Westview parent since January of 2011. She's a mother of four and resides in Richmond, Texas.