The Westview School Blog
Posts Tagged "houston autism school"
October 20, 2021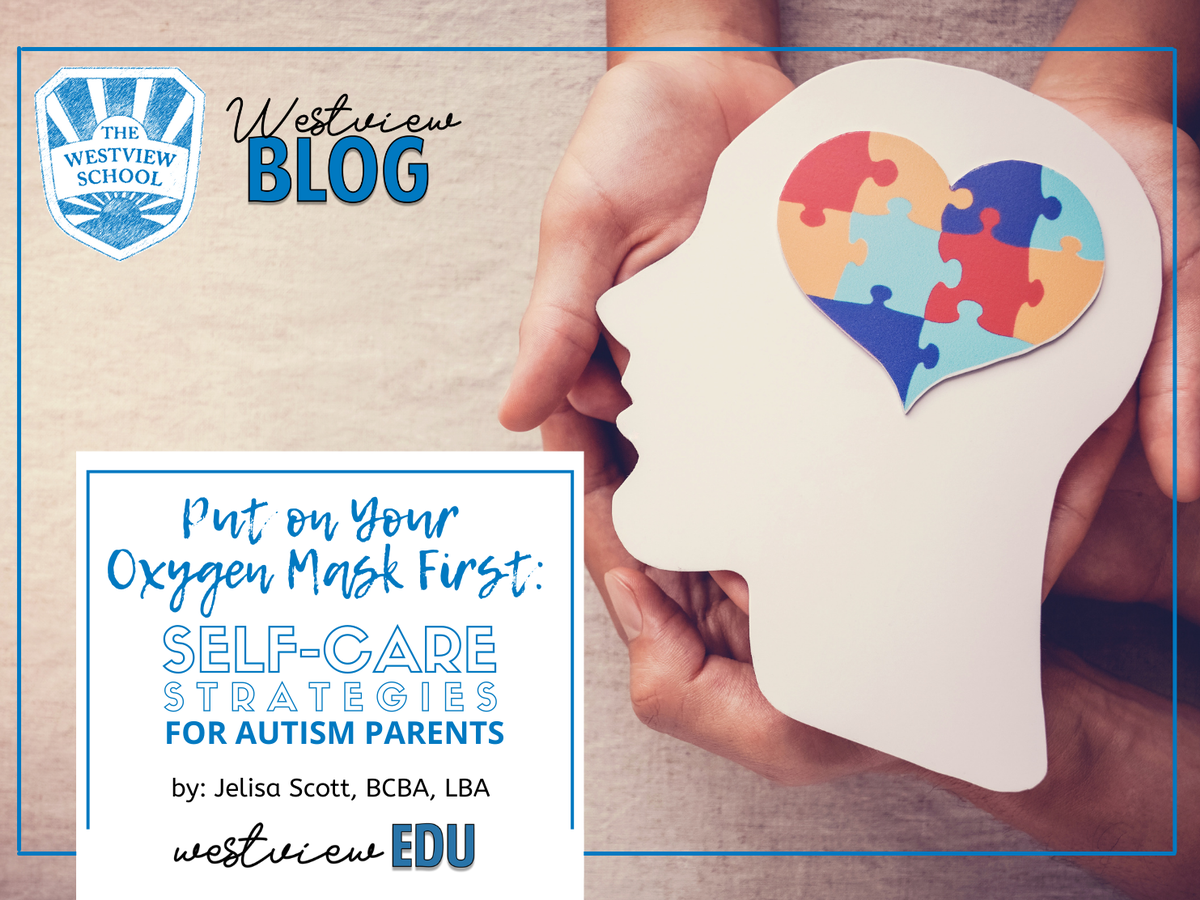 When it comes to parenting a special needs child, there are many things to consider: therapies, schools, medications, the list goes on. However, arguably one of the most essential therapeutic strategies to help your child is evaluating and caring for yourself. To have the physical and emotional energy to fulfill all the duties of a parent (especially an autism parent), you must make sure you are mentally healthy. How many times have we been on an airplane and heard the flight attendant advise, "in case of an emergency, secure YOUR OWN oxygen before helping others next to you." In the case of raising a child with autism, it is essential to "secure your own oxygen" before you can be expected to help your child. Parents who are stressed, feeling anxious about the future, or having depressed feelings about their child's current stage of development, are more likely to have trouble helping and supporting their child in the ways they need. If you really want to help your child, challenge yourself to make these parent coping strategies a habit:
1. Prioritize your self-care.
There's an old adage that says, "empty cups can't pour." Think about the things that fill your cup, and make time to prioritize them. Taking care of yourself is a selfless act because it sets you up to be in the best position possible to continue to advocate and care for your child's needs.
2. Engage with other Autism parents in the community.
You are not alone. Other parents and caregivers of children on the autism spectrum are going through similar situations as you. Expand your social circle to include support from other parents who understand what you experience. Shared experiences help build connections and can decrease feelings of depression, anxiety, and isolation.
3. Minimize anxiety by staying present.
The past is already done, and the future is not promised. Remind yourself to focus on today. When you worry about the future, you miss an opportunity to be grateful for what you have in the now. Be intentional about identifying what you are thankful for right now to help minimize your anxieties about the future.
4. Focus on your child's strengths.
Try not to focus on the negative. It is much more beneficial to focus on your child's strengths. There is no advantage mentally or emotionally to only see your child for the things they can't do. Knowing where your child's strengths lie and keeping them at the forefront can help you use that knowledge to supplement the areas where they need more support.
5. Plan time for fun.
All work and no play does not equal success. Sometimes your child (and you) need a break from it all. Taking time out from the hard work to laugh and play can improve your overall quality of life.
Remember, you are the most important person to your child, and they need you to be physically, emotionally, and mentally strong. Your child needs you to be strong enough to continuously advocate for their acceptance, accommodations, and inclusion within their community. Being strong doesn't mean that you won't have bad days. Improving your well-being doesn't mean that there won't be challenging times, but hopefully, these strategies will help you build healthy self-care habits and, in turn, will help you work better with your child at home.
--
Jelisa Scott is a Board Certified Behavior Analyst (BCBA) and a Licensed Behavior Analyst (LBA) in the state of Texas. She received her bachelor's in Psychology from Louisiana State University in 2010, her master's degree in Behavior Analysis from the University of Houston Clear Lake in 2014 and is currently in school to earn her doctorate degree in School Psychology from the University of Houston. Jelisa has been working with children with and without special needs since 2008 and has gained experience providing in-home ABA services, parent training, classroom consultations, navigating ARD meetings, decreasing severe problem behavior, improving verbal behavior, social skills training, and early childhood intervention.
This blog post was adapted from the presentation given during WestviewEDU on Thursday, October 7, 2021. WestviewEDU is an education series presented by The Westview School for parents and caregivers of children with autism spectrum disorder. For a full list of WestviewEDU sessions for 2021/2022 academic calendar year, visit The Westview School online.